BB600 Breaker boom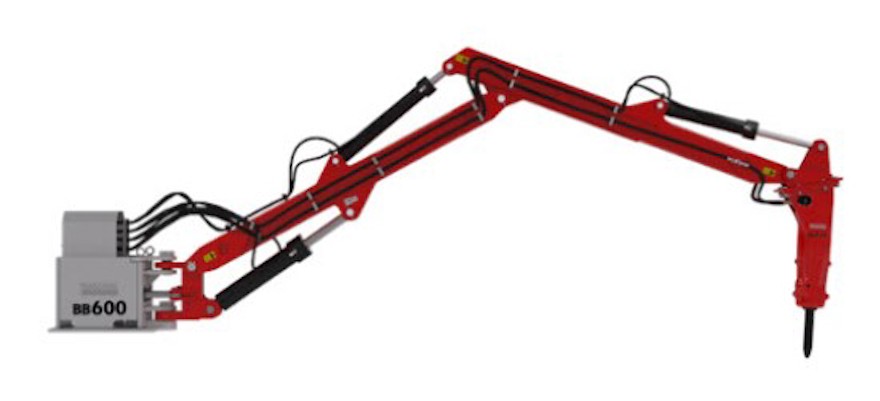 Sandvik BB600 is a multi-purpose breaker boom typically used in quarries, next to a stationary crushing plant's primary crusher to clear blockages and bridging.
Need to know more?
The BB600 is simple to install and operate, which means you get the maximum amount of uptime. The equipment can be operated directly by the valve levers or with radio controls.
Reliable BB600 provides a 7.7-meter maximum reach and 170-degree swing for optimum flexibility, even in limited spaces.
Applications
Jaw crushers
Impact crushers
Advantages
Compact size multi-purpose boom suitable for use in limited spaces
Robust and reliable construction to ensure easy maintenance
170° swing for optimal reach
Heat-treated conical pins for extended service life
Sandvik's full electrification makes the boom energy efficient
Technical data
Weight, kg
2,750
Maximum reach, m
7.7
Nominal horizontal reach (H), m
6.2
Nominal vertical reach (V), m
5.7
Swing, °
170
Base dimensions, m
0.81 x 0.96
Recommended breaker types
BR777i Heavy Duty Small
BR999i Heavy Duty Small
BR1322i, BR1533i, BR1655i
Recommended power packs
HU18, HU30