Medium range breakers
BR1655i Hydraulic breaker
Working weight

1,100 kg (2,430 lb)

Tool diameter

115.00 mm (4.53 in)

Carrier weight, allowed range

12 - 20 t (26,500 - 41,100 lb)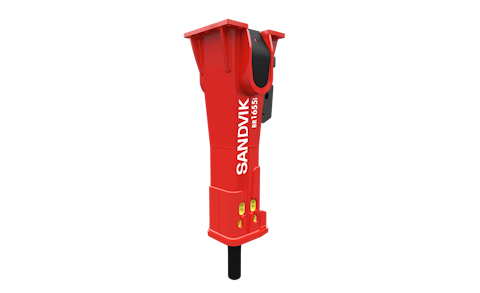 Sandvik BR1655i incorporates a piston and tool that are perfectly matched to ensure maximum energy transfer for optimum power and breaking efficiency. The equipment is designed to operate in the most demanding conditions.
Factory-installed RD3 remote monitoring device

for superior fleet management

FBE (Fixed Blow Energy)

the built-in pressure control valve maintains hydraulic pressure levels to ensure that every blow delivers the maximum power, yielding optimum productivity in all applications.

Easy IBP (Idle Blow Protection)

adjustment in the field ensures the hammer cannot be operated until pressure is placed on tool. This eliminates tie rod stress, reduces oil overheating and protects against premature failures.

High pressure membrane accumulator

eliminates nitrogen leakages, ensuring constant maximum impact power – higher uptime and productivity with lower operation costs. Maintenance is easy and there's no need for recharging in field
Product data
Additional product information
BR1655i

Sandvik BR1655i hydraulic breaker is designed to get into places where other breakers of its size can't. It features a slim, robust housing made entirely of wear-resistant steel and a replaceable bottom plate.
The BR1655i has constant high productivity and is extremely reliable with low operating costs. Installation has been designed to be easy and safe for the operator, while maintenance is simple, allowing you to maximize uptime.

Additional advantages

Twin-handed to increase stability
Slim and lightweight design makes it easy to operate and enables access to narrow places
Sound suppression benefits the operator and the surrounding environment
VIDAT (Vibration Dampened) Tie rods for better reliability and longer working life
Constant high productivity with low operating costs
Ramlube I (optional)
Ramlube II automatic tool greasing system (optional)
Sandvik's patented Ramvalve detects overflow, prevents damage from system overload and protects against premature failure.
Our medium range breakers
Contact us
We are here to help, we are available in many places around the world. Just let us know.