Heavy duty small range breakers
BR999i Heavy Duty Small hydraulic breaker
Working weight

600 kg (1,322 lb)

Tool diameter

90.00 mm (3.54 in)

Mini excavator weight, allowed range

5.8 - 13.0 t (12,800.0 - 28,700.0 lb)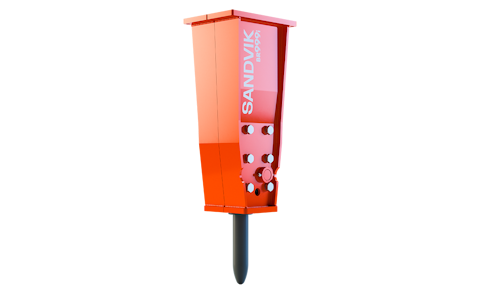 Sandvik BR999i Heavy Duty Small hydraulic breaker has been designed for the toughest of applications. The breaker can be utilized in a number or different duties, thanks to its ability to be mounted on a wide range of carriers.
Factory-installed RD3 remote monitoring device

for superior fleet management

CBE (Constant Blow Energy)

unique operating principle that allows wide oil flow range, automatically adapting to maintain the highest impact power and efficiency. This enables fast and easy plug-and-play installation to different carriers.

High pressure membrane accumulator

eliminates nitrogen leakages, ensuring constant maximum impact power – higher uptime and productivity with lower operation costs. Maintenance is easy and there's no need for recharging in field

Heavy-duty housing

withstands high temperature and extreme wear
Product data
Additional product information
BR999i Heavy Duty Small

The durable, low-maintenance design of the BR999i Heavy Duty Small breaker features a membrane-type accumulator to ensure constant maximum impact power and eliminate the need for recharging in the field. This enables consistently high productivity while maintaining stability and safety.
The field-replaceable tool bushing and other proven, intelligent features keep maintenance downtime to a minimum and productivity high even in the most challenging environments.

Additional advantages

No-tie-rods design enables fast and easy servicing without special tooling required
Quick-change tool bushing makes maintenance easy, fast and safe
Broad carrier range gives the breaker real versatility
Contact us
We are here to help, we are available in many places around the world. Just let us know.