Medium range breaker booms
BB7600H Breaker boom
Weight

8,760.0 kg (19,312.0 lb)

Nominal horizontal reach

6.4 m (21.0 ft)

Swing

170 °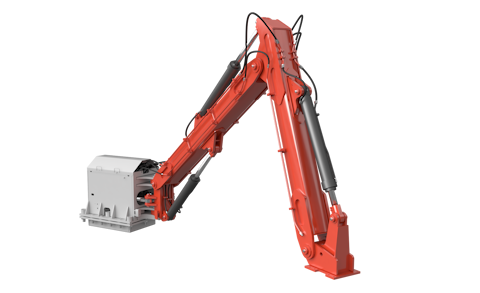 Sandvik BB7600H breaker boom is specially designed for mining markets to maintain optimum throughput, increase crusher efficiency and extend the life of the equipment.
Over-dimensioned design

for better durability and reliability

Modular design

allows parts to be easily replaced

Conical Expander® pins

offer a long service life

Shock-absorbing pedestal mounting

makes the equipment stable under the toughest conditions and extends the foundation lifetime
Product data
Additional product information
BB7600H

Easy maintenance and reliability of the BB7600H ensure you get the maximum uptime. The multi-fit pedestal design makes replacing existing, worn-out boom systems more convenient. The number of different parts is cut to a minimum by, e.g., fitting the same cylinders for all boom functions.
Durable and productive Sandvik BB7600H breaker boom provides a 9-meter maximum reach and 170-degree swing. Proven design combined with over dimensioning makes the boom a convenient and safe choice.

Additional advantages

Sandvik full electrification makes the boom energy efficient
Our medium range breaker booms
Contact us
We are here to help, we are available in many places around the world. Just let us know.