BR5011
i

Hydraulic breaker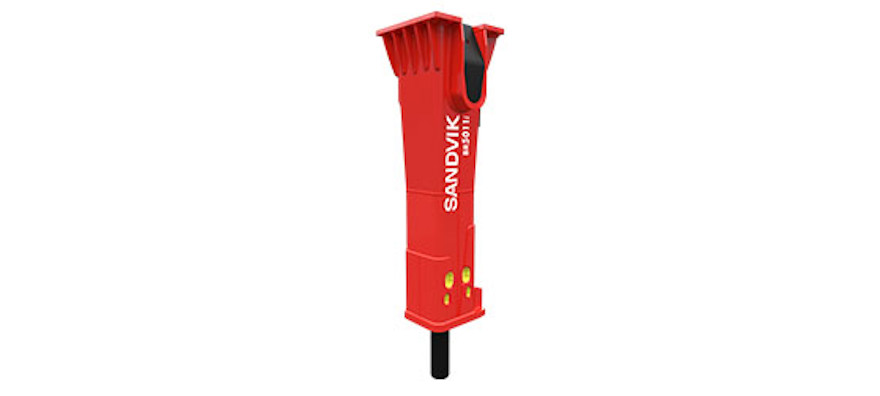 Sandvik BR5011i hydraulic breaker has been designed using a revolutionary operating principle that incorporates stroke length, blow energy and Sandvik idle blow protection, allowing the breaker to be modified to match individual applications and improving hydraulic efficiency and safety. The BR5011i delivers massive impact energy and high blow frequency for an exceptional power-to-weight ratio.
Need to know more?
The BR5011i is designed for demanding applications, including trenching, concrete and stone demolition, low-clearance tunneling, the primary and secondary breaking of oversized boulders as well as underwater breaking.
The optional heavy-duty housing enables the BR5011i to tackle the toughest of applications. The robust structure made from a wear-resistant steel plate has a minimum number of holes and includes heavy-duty wear plates for optimal vibration and noise dampening. Even in the harshest applications, the resulting longer housing lifetime reduces the total cost of ownership through less maintenance.
Advantages
Factory-installed RD3 remote monitoring system for superior fleet management
Rotatable and easily field replaceable lower tool bushing reduces maintenance costs
Stroke selector allows to match breaker to material and application for optimized operating
Sandvik patented Ramvalve to protect against premature failure
Robust, wear-resistant plates for optimum breaker protection and noise reduction
Easy IBP (Idle Blow Protection) adjustment in the field
FBE (Fixed Blow Energy) for optimum productivity
Optional Ramlube I & II greasing kits for longer component life
Built-in air channel enables easy underwater conversion
Technical data
Working weight, kg (lb)
4,750/5,200 (10,470/11,460)*
Impact rate, bpm, Long / Short stroke
370 - 530/450-620)
Operating pressure, bar (psi)
160 - 170 (2,320 - 2,465)
Tool diameter, mm (in.)
190 (7.48)
Acceptable oil flow, l/min (gal/min)
280 - 380 (73.9 - 100.4)
Carrier weight, allowed range, t (lb)
43 - 80 (94,800 - 176,400)

* Standard/Heavy-duty housing