Tracked cone crushers
QH332 Cone crusher
Equipment

Sandvik CH430 cone

Max. feed size

214 mm (8 in.)

Capacity

220 mtph (242 stph)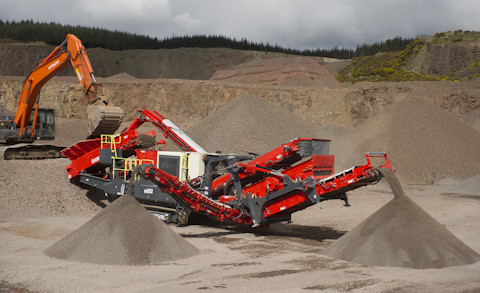 Sandvik QH332 is a tracked, self-contained cone crusher designed for versatility, safety and high performance. Featuring the Sandvik Hydrocone crusher, it comes with a number of features to ensure maximum uptime and minimum operator intervention.
No crusher backing required

behind the liners which allows the crusher to be operational immediately after a liner change

Direct drive

through a wet clutch with eight SPC drive belts to ensure maximum fuel efficiency and power delivery

Variable crusher speed

through the engine rpm to manipulate the gradation of the end product

Maximum feed size up to 185 mm

and capable of up to 220 tph on the larger bush setting

Remote camera

which makes the crushing chamber visible from ground level
Product data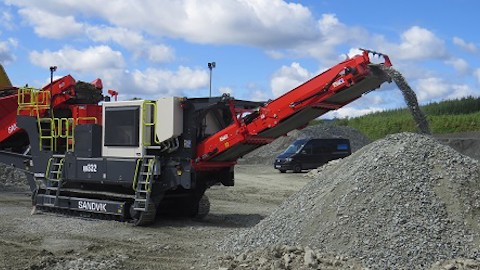 Additional product information
CH430

Sandvik CH430 cone crusher is at the heart of this machine. This advanced piece of crushing technology comes equipped with a hydroset system, which puts the user first by providing both safety and setting adjustment functions. In addition, the automatic setting regulation system will not only optimizes production for you but will also keep track of liner wear, minimizing interruptions and maximizing uptime.

The cone comes with a choice of six different crushing chambers and a number of different bush settings, making it the ideal choice for a huge variety of crushing jobs. This machine is powered by a 261kW (350hp) engine and a fuel efficient direct drive system to ensure maximum production capacity and maximum power transfer.

Also within this range is Sandvik QH441 and QS332 cone crusher.

Versatility with modular hanging screen

We offer an optional modular double deck hanging screen (HS) which has been designed to maximize productivity and profitability, giving accurately sized products ready for immediate use. It enables two screened products to be produced and any oversize recirculated back into the crusher.

Cross compatible with our 2-series of crushers; QI442, QH332 and QS332 models, the modular screen is self-contained and can be installed or removed from the plant in less than 30 minutes without the need for any additional lifting equipment on site.

Our patent pending hanging screen option delivers multi-functionality as a 1, 2 or 3-way split screener offering unrivalled flexibility.

Additional advantages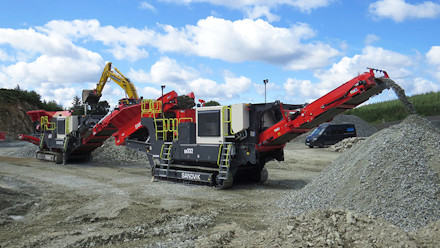 Macleod Construction and Sandvik celebrate two decades of partnership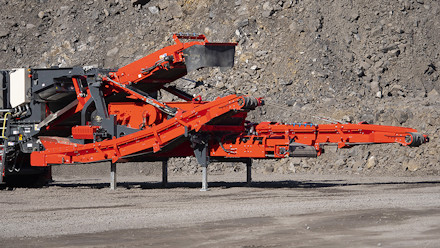 Versatility and cross-compatibility with Sandvik's unique modular hanging screen
Sandvik's modular double deck hanging screen can process two screened products and recirculate any oversize back into the crusher. Some of the unique benefits of this new modular hanging screen include; its ability to be adapted quickly for operation in open or closed circuit configurations.