Tracked screens
QA442 Doublescreen
Equipment

Sandvik 2 deck Doublescreen

Screen size

6 x 1.5 m (20 x 5 ft)

Capacity

Up to 600 mtph (661 stph )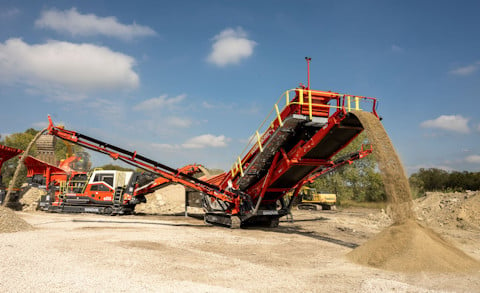 Sandvik QA442 mobile 2-deck sizing screen is the latest evolution of the Sandvik QA Series products and Doublescreen technology developed with uptime, productivity and lower cost of ownership in mind.
World class Doublescreen technology

offering greater adjustability, increased accuracy and higher screening efficiency

Equal size screen decks

each providing 9m3 /100 sq. ft of screening area

Large volume hopper

complete with remote control hydraulic tipping grid

Independent screen angle adjustment

for greater screening accuracy

Versatile unit

capable of producing large volumes of high specification product
Product data
Additional product information
QA442

The QA442 is capable of producing large volumes of high specification products. Featuring two double-deck inline screen boxes with equal size screen decks each providing 9m3 /100 sq. ft of screening area.

The primary screen performs as a fines extractor, whilst the secondary screen performs as a grader. Two processes on one plant, offering exceptional flexibility, excellent separation, accurate grading and massive throughput.

This latest model has been designed with a number of new features for improved access, ease of operation and quicker set-up.

Sandvik QA442 offers a more sustainable solution with lower emissions, reduced fuel consumption, extended service intervals, optimized hydraulics and less operating noise.

Other models within this range of screens include Sandvik QA452.

Lower your operating cost and your carbon footprint

In our drive towards a more sustainable future and helping our customers to lower their operating costs, we have developed a hybrid drive option for our Q-Range of screens and scalpers. This electric plug-in solution allows you to choose between operating in electric-hydraulic or diesel-hydraulic mode, giving you the flexibility to select the energy source which best suits your requirements. This will enable you to lower your operating cost as well as your carbon footprint.

Available on Sandvik QA442e and QA452e models within our screening range and QE342e, QE442e and QE442e Free Flow in our scalper offering.

Additional advantages

Designed for optimum fuel economy to lower your operating costs
Up to 50% less hydraulic oil consumed over 10,000 hrs of machine usage, (subject to oil sampling)
Wireless radio handset and two speed tracking for safe & efficient movement
User friendly PLC control system with sequential start-stop for speed and ease of set-up
Hybrid "e" drive option with electric plug-in lets you choose your most economical and efficient energy source
My Fleet remote monitoring system with 7 year data subscription to help optimize your machine operation
Security+  extended warranty & service package for higher uptime and peace of mind.
Contact us
We are here to help, we are available in many places around the world. Just let us know.