Mobile Crushing Solutions
Optitooth jaw plates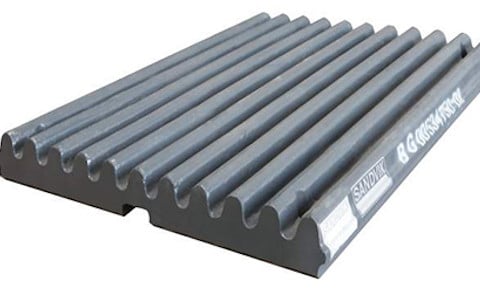 Through our in depth knowledge of every aspect of the crushing process, we have designed a jaw plate to help you achieve optimum performance from your crushing chamber.
Designed around adding material where it matters most, our Optitooth™ will offer you a wealth of benefits to optimize productivity and lower your operating costs.
Keeping you crushing longer
The Optitooth™ jaw plates have been designed for a higher percentage of the jaw to be utilized resulting in longer wear life and less manganese waste. The innovative design enables better breakage and a faster distribution of fines through the crushing chamber. This results in lower engine loading and consequently, a reduction in fuel consumption lowering your operating costs.
Available for Sandvik Q-Range; QJ241, QJ341, QJ341+, and former Sandvik and Extec jaw crusher models: QJ240, C10, C10+, QJ340, C12 and C12+.
Advantages
Proven to last up to 30% longer
Up to 20% more productive
Reduced fuel consumption through lower engine loading
Improved design reduces manganese spread enabling easier jaw plate removal
Better breakage and improved material flow providing a better shaped product