Wheeled screen units
UF320E Screen unit
Equipment

Sandvik SF1843 screen

Screening area

6.5 m2 (69.9 ft2)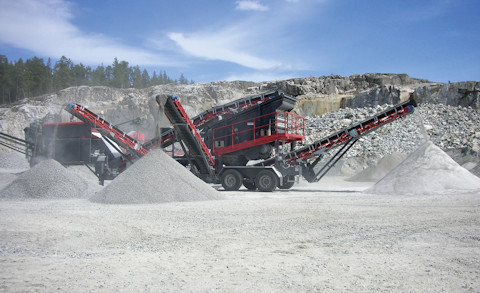 Sandvik UF320E is a complete wheeled screening unit, designed to produce at maximum capacity in highly accurate screening operations. Powered by electricity it offers a low cost per tonne due to operation through an onboard diesel genertor or connection to an electrical mains supply.
User friendly control system

via PLC and remote control as standard

Designed for low operating cost

Low emissions

due to operation through electrical mains or optional onboard diesel generator

Dust suppression spray bars

and sealed conveyor to minimize dust
Product data
Additional product information
UF320E

Sandvik UF320E can produce three different product sizes plus an oversize fraction, making it ideal for your large scale production projects. It is able to work alone or interlocked in a "process train" with other crushing and screening units.

Designed for ease of operation, the UF320E incorporates many customer-focused features for trouble free operation and maximum uptime. These include a number of sensors located at key locations and a user-friendly control system via PLC, with radio remote control as standard.

UF320E is designed for ease of mobility and quick set-up, so can easily be transported from site to site and operational within a short space of time.

Equipped with hydraulically folding side conveyors, as well as access features to make servicing and maintenance safe and easy, this also maximizes the efficiency and uptime of your operation.

Also available within this wheeled range are Sandvik UH320E and UV320E models.

Additional advantages

Sensors located at key locations for trouble free operation
Security+  extended warranty & service package for higher uptime and peace of mind.