Wheeled impact units
UV210 VSI impact unit
Equipment

CV217 VSI, SA1853 triple deck screen

Max. feed size

700 mm (28 in.)

Capacity

Up to 185 mtph (200 stph)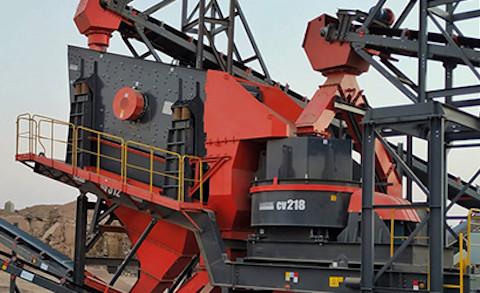 Sandvik UV210 is a tertiary crushing unit fully assembled on a single trailer frame. Designed to be highly productive, versatile and mobile to meet your needs, it features a Sandvik CV217 VSI crusher and efficient three deck vibrating screen which is capable of producing 1 - 3 products of premium shape at a low cost per tonne.
Ideal for secondary and tertiary crushing

High quality, consistently sized output

Low cost per tonne

due to electric operation

Quick to set-up and easy to maintain

resulting in more uptime and higher productivity

Easy access for service and maintenance
Product data
Additional Product Information
UV210

Sandvik UV210 is ideal for a wide range of crushing applications, and is particularly efficient with secondary and tertiary crushing. This equipment features Sandvik CV217 VSI impact crusher technology, which produces premium shaped aggregates and sand of a consistent high quality through controlled product grading. Although primarily designed for sand and aggregates, it is capable of processing a variety of material from hard and abrasive rocks to soft, moist or even sticky material.

Sandvik UV210 includes many advanced features enabling you to achieve maximum efficiency and reliability in your operation, whilst also helping to ensure operator safety with excellent stability and secure walkways. Service and maintenance is made simple, so your uptime can be kept at optimum levels.

Also available in the range is the Sandvik UV312 model.

Additional advantages

Compact layout and excellent stability
Security+  extended warranty & service package for higher uptime and peace of mind.