Side-mounted range breakers
BR3288i Side-mounted hydraulic breaker
Working weight

3,550 kg (7,826 lb)

Tool diameter

142.00 mm (5.59 in)

Carrier weight, allowed range

26 - 42 t (57,300 - 92,600 lb)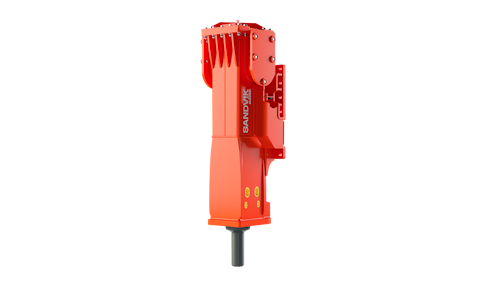 Sandvik BR3288i Side-mounted hydraulic breaker has been designed using a revolutionary operating principle that combines stroke length, blow energy and Sandvik's idle blow protector, allowing the breaker to be modified to match individual applications and improving hydraulic efficiency and safety. ​
FBE (Fixed Blow Energy)

the built-in pressure control valve maintains hydraulic pressure levels to ensure that every blow delivers the maximum power, yielding optimum productivity in all applications.

High pressure membrane accumulator

eliminates nitrogen leakages, ensuring constant maximum impact power – higher uptime and productivity with lower operation costs. Maintenance is easy and there's no need for recharging in field

Easy IBP (Idle Blow Protection)

adjustment in the field ensures the hammer cannot be operated until pressure is placed on tool. This eliminates tie rod stress, reduces oil overheating and protects against premature failures

Rotatable and easily field replaceable lower tool bushing

reduces maintenance costs
Product data
Additional product information
BR3288i Side-mounted

Manufactured with a heavy-duty housing for optimum wear resistance and designed to be reliable and easily maintained, allowing you to maximize productivity and uptime. The BR3288i Side-mounted breaker delivers tremendous impact energy and high blow frequency for an exceptional power-to-weight ratio.

Additional advantages

Stroke selector allows to match breaker to material and application for optimized operating
VIDAT (Vibration Dampened) Tie rods for better reliability and longer working life
Ramlube I & II greasing kits for longer component life (Optional)
Sandvik's patented Ramvalve to protect against premature failure
Robust, wear-resistant plates for optimum breaker protection and noise reduction
Sandvik's patented tool sealing structure protects the power cell against debris and extends service life significantly
Contact us
We are here to help, we are available in many places around the world. Just let us know.