UF473 Wheeled Screening unit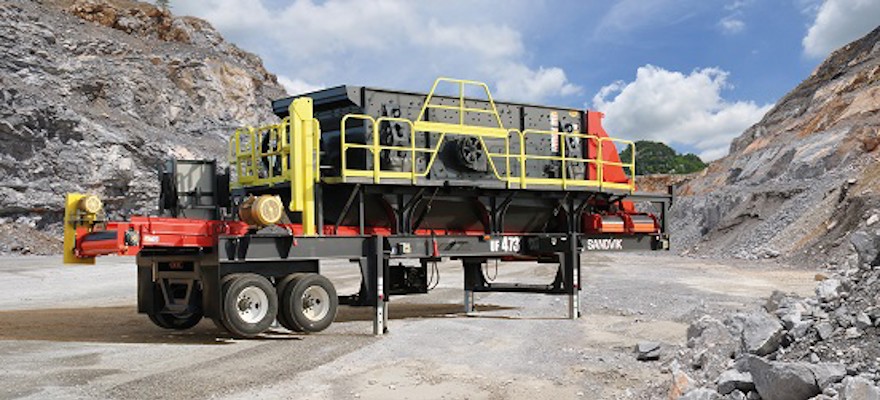 The Sandvik UF473 wheeled screening unit is engineered to provide your operations with high-end productivity processing at a low cost-per-ton and reducing CO2.
Designed for the North American market, the Sandvik UF473 wheeled screening unit is fully assembled on a heavy-duty tandem axle trailer frame and features a triple-shaft 8' x 20' horizontal screen, cross and fines conveyors and a user-friendly control UL certified panel.
Need to know more?
Electrically driven, the Sandvik UF473 offers you the freedom to adapt to your rock processing needs. The three deck 8' x 20' screen's high G force and elliptical throw combined with Sandvik's quality conveyor designs and chutes works ensures maximum productivity for your operation.
Designed with enhanced safety in mind and ensuring you maximize the uptime of your equipment, the features on the machine are accessible and constructed to be easily serviced. Through Sandvik's global support and accessibility to genuine wares and spares through our North American network, guarantees you get value throughout its lifecycle.
Advantages
Ideal solution for your screening needs
A high quality, rugged screen with heavy duty bracing and frame members giving you a reliable and productive unit
Three deck 8' x 20' screen with a high G force and elliptical throw result in increased capacity
Hydraulic folding walkways for quick set up
Safety line for fall protection over the screen box during maintenance
UL certified removable electrical switchgear
Low cost per ton due to electric operation
Quick to set-up and easy to maintain, resulting in higher uptime and increased productivity
Technical data
Equipment
8' x 20' Triple Shaft Horizontal screen
Maximum feed size
8 in. (200 mm)
Capacity (up to)
885 stph (800 mtph)
Power
90 Hp (67 kW)
Transport length
46 ft 1 1/4 in. (14.06 m)
Transport width
11 ft 10 in. (3.60 m)
Transport height
14 ft 5 in. (4.39 m)
Weight
67,500 lbs (30,617 kg)
Please note all weights and dimensions are for standard units only.