UV320E wheeled VSI Impact unit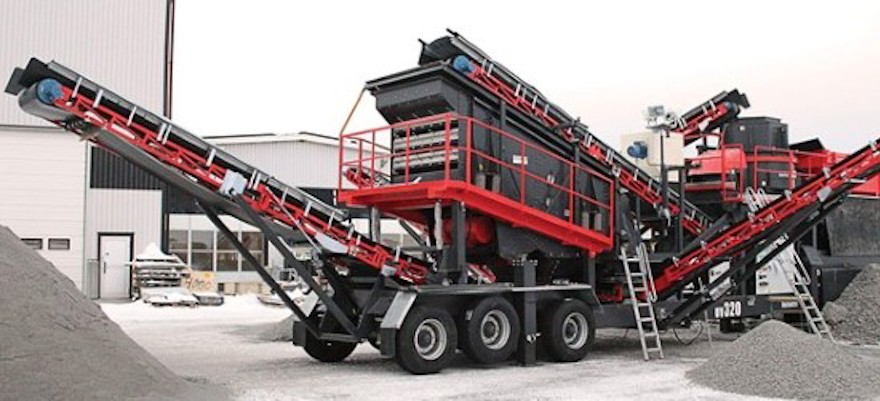 Sandvik UV320E is an integrated vertical shaft impact (VSI) crusher and three-way split screener on a wheeled chassis. Powered by electricity we have designed this unit for the production of premium shaped aggregates for the concrete and asphalt industries at a low cost per tonne.
Need to know more?
Sandvik UV320E combines our state of the art Sandvik CV217 crusher and our three-way split screening technology for maximum mobility and flexibility of operation. Sandvik VSI technology, renowned for high capacity and cubical shape at a consistent quality, this unit is highly efficient and produces the highest quality materials.
Sandvik's extensive experience and testing has led to a machine that is highly productive, easy to set up and operate. In order to maximize uptime, the machine has been designed with easy access for servicing and maintenance as a priority.
There are two variants available to optimize quality and capacity in different applications.
Also available within this wheeled range are Sandvik UH320E and UF320E models.
Advantages
Sandvik VSI technology for consistent high quality
Closed circuit and interlocked process unit
Highly efficient on board screen for product classification
Quick to set-up time and easy to transport for maximum uptime
Easy access for service and maintenance
Designed for maximum efficiency, high quality end product and low operating cost
Technical data
Equipment
CV217 VSI crusher
Maximum feed size
50 mm (2 in.)
No. of products
3 + Natural Fines
Capacity (up to)
200 mtph (220 stph)
Transport length
Direct: 18.6 m (58 ft 1 in.)
Flex: 17.85 m (58 ft 6 in.)
Transport width
3.0 m (9 ft 8 in.)
Transport height
4.5 m (14 ft 8 in.)
Weight
46,300 kg (101,800 lb)
Please note all weights and dimensions are for standard units only.
Former Name: RC107 Wheeled unit