Wheeled cone units
UH316 Cone unit
Equipment

Sandvik CH430 cone, SA1853 triple deck screen

Max. feed size

185 mm (7 in.)

Capacity

Up to 250 mtph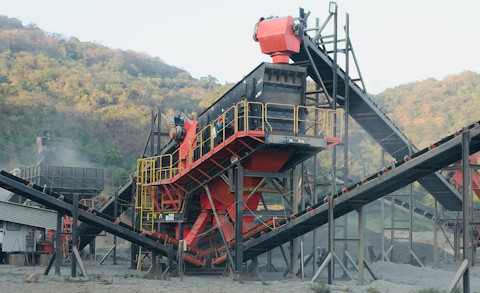 Sandvik UH316 is a compact secondary and tertiary crusher fully assembled on a single trailer frame. The powerful combination of our efficient Sandvik SA1853 triple deck screen and a highly productive Sandvik Hydrocone crusher make this wheeled crushing unit a versatile performer across a broad range of applications.
Ideal for secondary and tertiary crushing

Hydraulic cone Hydroset™ setting (CSS)

and overload protection for maximum uptime

Highly efficient and accurate screening capability

Easy access

for service and maintenance

Low cost per tonne

due to electric operation
Product data
Additional product information
UH316

Sandvik UH316 is a reduction solution in the most demanding of applications. The advanced Sandvik Hydrocone crusher is designed to provide exceptional flexibility in both materials and processing, with a choice of a variety of crushing chambers and throws, as well as three different feed options. The thicker side plates and large mechanism provided with the Sandvik SA1853 screen makes Sandvik UH316 ideal for providing primary crushed material to the screen first. When it comes to versatility, this multipurpose wheeled unit has the ability to produce up to four products, to meet the most ambitious requirements. The compact size makes it a perfect fit for mobile applications.

Operator efficiency and safety are paramount in all Sandvik products and Sandvik UH316 is no exception. User-friendly features such quick set-up times, hydraulically controlled settings, and easy ground access are sure to boost productivity. An array of safety features, from crusher-mounted safety guards to multiple emergency stop buttons, provide added peace of mind. Tough, steel plate construction and easy access for service maintenance make our wheeled crushing units dependable, long-life performers.

Also available in the wheeled cone range is Sandvik UH311, UH312, UH412 and US316.

Additional advantages

Quick to set-up and easy to maintain, resulting in higher uptime and increased productivity
Contact us
We are here to help, we are available in many places around the world. Just let us know.