qe442e free flow scalper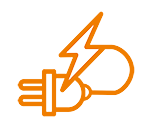 Sandvik QE442e Free Flow provides you with a versatile and highly efficient mobile solution for difficult to screen materials, without any of the plugging or blockages often experienced with traditional screens. Fitted with hybrid drive option, this model provides the flexibility to operate in diesel or electric mode for lower operating costs and reduced carbon footprint.
Need to know more?
Sandvik QE442e Free Flow features a heavy-duty scalping screen which allows you to process large un-screened material on the rigid scalping top deck, whilst providing a fine screening solution on the dual motion lower deck. The Free Flow screen itself is hugely versatile, with a wide range of settings designed to suit your specific needs.
It is your ideal solution for processing materials such as soils, aggregates, ores, waste, biomass and other products with high moisture contents, whilst maintaining superior levels of productivity.
Designed and built for durability Sandvik QE442e Free Flow incorporates the same class leading features as our Sandvik QE442e. Prioritizing operator safety, it is fitted with feeder control and 2 speed radio tracking fitted as standard.
Other models within this range include Sandvik QE342e and QE442e
Advantages
Hybrid "e" drive with electric plug-in to run in diesel or electric mode for lower operating costs
Aggressive Free Flow screen with wide range of adjustable throws and speeds enables the bottom deck to be tailored for numerous applications
Easy operation through a unique colour-coded control panel with sequential start / stop
Operator safety ensured with 2 speed radio tracking and feeder control as standard
Massive stockpiling capability through integrated hydraulic conveyors
Compatible for 2-way or 3-way split configurations
My Fleet remote monitoring system to help optimize your machine operation
Security+  extended warranty & service package for higher uptime and peace of mind.
Technical data
Screen box
5.4 x 1.75 m (18 x 6 ft)
Capacity (up to)
400 mtph (441 stph)
Engine
C4.4 110 kW (147 hp) *
Transport length
16.33 m (53 ft 7 in.)
Transport width
3.20 m (10 ft 6 in.)
Transport height
3.50 m (11 ft 6 in.)
Weight
38,267 kg (84,364 lb)
* Please refer to technical specification sheet for alternative engine options.
Please note all weights and dimensions are for standard units only.