QA451e Doublescreen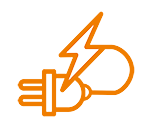 Sandvik QA451e is the world's first triple deck Doublescreen which offers you unrivalled throughput and control. Fitted with hybrid drive option, this model provides the flexibility to operate in diesel or electric mode for lower operating costs and reduced carbon footprint.
Need to know more?
Sandvik QA451e is a formidable solution with two inline 3 x 1.5 m (10 x 5 ft) screen boxes, which provide you with ultimate flexibility and control. The first screen performs as a fines extractor, whilst the second screen performs as a grader. Two processes combined on one plant, offering exceptional flexibility and massive throughput.
We have designed Sandvik QA451e to work in closed circuit with our tracked crushers, and you can optimize the feeding position to upstream units with the fourth hydraulic conveyor.
To provide ultimate flexibility Sandvik QA451e can also work as a stand-alone screening and stockpiling system. In this mode the unit can produce four sized products with fifth oversize material scalped off at the grid. Safety features like full radio remote-control, two-speed tracking and hydraulically folding walkways are included as standard.
Other models within this range of screens include Sandvik QA441e.
Advantages
Hybrid "e" drive with electric plug-in to run in diesel or electric mode for lower operating costs
High production capabilities due to its large screening area
Oversize conveyor which features both hydraulic raise / lower and hydraulic slew functions
User-friendly control panel with sequential start-up for ease of operation.
Hydraulically folding walkways for ease of maintenance and set up
Full radio remote control as standard for safe and easy setup
Designed for optimum fuel economy to lower your operating costs
My Fleet remote monitoring system to help optimize your machine operation
Security+  extended warranty & service package for higher uptime and peace of mind.
Technical data
Screen box
6 x 1.5 m (20 x 5 ft)
Capacity (up to)
600 mtph (661 stph)
Engine
C4.4 98kW (132hp)
Transport length
18.37 m (60 ft 3 in.)
Transport width
3.20 m (10 ft 5 in.)
Transport height
3.55 m (11 ft 8 in.)
Weight
33,935 kg (74,814 lb)
Please note all weights and dimensions are for standard units only.
Former Names: Extec S-7, QA450 Doublescreen