A pair of high performers for C&R Developments, New Zealand
Two new Sandvik crushers from Porter Group have begun work for C&R Developments in a quarry in Kinleith Forest. Their first venture into quarrying equipment, a QJ341 jaw and a QH332 cone crusher were selected based on their reputation for quality and reliability in the field.
Watts quarry is one of three in the Kinleith Forest that C&R Developments manages. Basalt is extracted here and is crushed to make roading aggregate. C&R Developments is a civil and mining earthmoving company that specializes in working with quarries to remove overburden. Set up in 1998 by the four Ross brothers; Michael, Tony, Tim, and Simon, the business employs 230 staff, including operators, engineers, surveyors, mechanics, and other technical staff. Based in Cambridge, it has a large and comprehensively equipped workshop for engine maintenance, repair, and refurbishment, as well as paint and panel work.
Until recently, C&R had only been working in the quarries removing overburden, however, it has now taken over management of the whole quarrying operation. The company owns and operates a wide selection of heavy plant, selected to take on the toughest and most demanding jobs. It's latest acquisition of a Sandvik QJ341 mobile jaw crusher and QH332 mobile cone crusher are its first items of crushing machinery. "We have been working in Kinleith Forest for the past four years, removing overburden," says C&R contracts manager Gary James, who is responsible for the company's quarry work throughout Waikato. "But this is our first foray into quarry management." Gary says the forest is managed by Manulife (formerly known as Hancock Forestry Management). "Because of our contract work in the quarry, we not only had an existing relationship with Manulife, but also had half the fleet we needed – the loaders and excavators. We just had to get the crushing gear."
When it came to selecting which brand of crusher, we spoke to our peers in the industry to gauge what we should use as they know a lot more about this stuff than we do.
In the end we opted for Sandvik, as it's been around for a long time and has earned a really good reputation for quality and reliability.
Once C&R's tender for the quarry management was accepted, Gary went straight to Porters to get the crushers he needed. "I had been dealing with Johan at Porters for about a year in the build-up to our tender being accepted, and he was able to get us what we wanted at an affordable price and with the backup and support we need. "The jaw crusher was already in the country and the cone crusher was delivered five weeks later, which was not too bad given the current shipping situation." Sandvik says its QJ341 mobile jaw crusher features a large feed opening and high crushing speed, making it capable of delivering high outputs with excellent reduction ratios. The hydraulically adjustable jaw setting can be tailored to suit the application while the reversible crushing action can relieve blockages and deal with sticky problematic materials.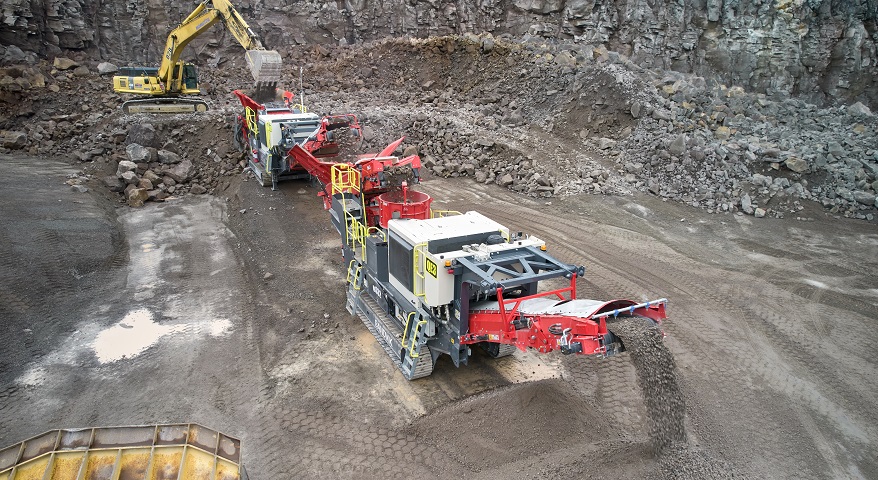 The QH332 mobile cone crusher comes with a choice of six different crushing chambers and a number of different bush settings, making it the ideal choice for a wide variety of crushing jobs. The automatic setting regulation system optimizes production and also keeps track of liner wear, minimizing interruptions and maximizing uptime. Along with versatility and high performance, Sandvik says both crushers have been designed for minimum operator intervention and ease of maintenance, ensuring the safety of the operators.
In Kinleith Forest, C&R has set the crushers up in tandem in the quarry, where they have been working since the beginning of November, crushing up to 1600 tonnes of rock per day.
"We haven't had them long so have yet to see their full potential. However, we have a couple of highly experienced guys on our team and they are very pleased with how they're performing so far," says Gary.
The article first appeared in Quarry & Mining Magazine New Zealand in February 2023.