Boral and Sandvik worked together to complete the plan for the plant before the final supply and construction contracts were issued.

Designed and supplied by Sandvik, Boral's processing plant has performed above targeted production rates.

Early contractor involvement was one of the key components of this project.

Boral Deer Park basalt quarry is located near Melbourne, in the south-eastern corner of Australia.

A key improvement that came from the collaboration was a better way of processing poor-quality feeds during bad weather.
Building materials company Boral has taken a major step towards being able to "mine anywhere, anytime" at its Deer Park quarry in Melbourne, Australia, thanks to an innovative and modern processing plant solution.
Text: Daniel Dasey Photo: Adam Lach Published: 18 April 2018
Located in the south-eastern corner of Australia, the city of Melbourne is one of the fastest-growing urban centres in the developed world. Each year, an additional 150,000 people decide to call this buzzing, multicultural city of 4.5 million home, fuelling demand for new infrastructure, housing and commercial premises. For the past five decades, building materials company Boral has helped Melbourne to grow by supplying a range of construction materials, such as aggregate for use in concrete and asphalt. So, when Boral realized the processing plant for its largest Melbourne basalt quarry at Deer Park was near the end of its lifespan, the company was eager to find a replacement solution that would be delivered on time and efficiently without affecting output. "The overall market outlook is quite busy, with a number of major projects in the pipeline starting at the end of 2018 and finishing in the early 2020s," says Luke Brown, Boral's acting general manager for Southern Region Quarries. "Because Deer Park is in the western suburbs and close to the city, it's well positioned to contribute to the growing pipeline of infrastructure work in and around Melbourne. So, having a new plant commissioned and ramped up in time for the major road and rail projects has been one of our objectives."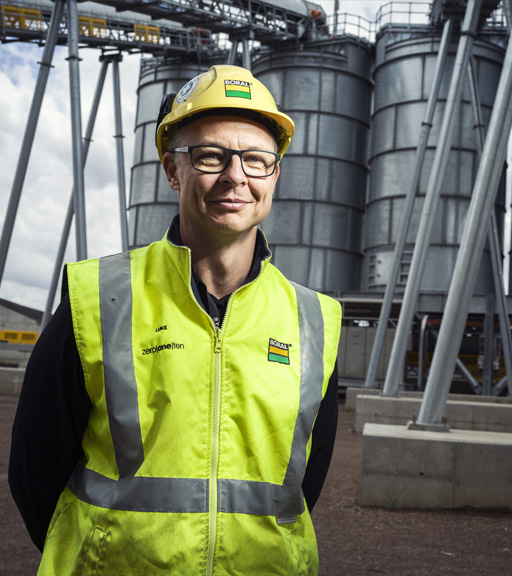 Luke Brown is Boral's acting general manager for Southern Region Quarries.
In 2015, after an extensive tendering process, Boral commissioned Sandvik to design and supply a new aggregate processing facility. Today, the plant is approaching the end of its ramp-up phase and has been completed on time and on budget with no project variations. It is also far exceeding output projections and is helping Boral to move closer to being able to "mine anywhere, anytime" regardless of poor-quality feed and harsh weather. "We're achieving the product specification, and the plant is performing as well, if not better, than what we'd asked for," Brown says. "We have consistently performed 15 to 20 percent above targeted production rates." Sandvik designed the multi-stage processing plant and supplied processing equipment including jaw, cone and horizontal crushers, feeders, screens and conveyors as well as walkways and other infrastructure. Partnering with Sandvik, Boral oversaw the construction and subsequent ramp-up phase, which began in June 2017.
According to Kai Kane, Boral project manager for the new plant, a big part of the success of the project has come down to close collaboration with Sandvik and a range of innovative approaches that were implemented on the journey to completion. One key element, for example, was the use of the early contractor involvement approach – an idea that came from Boral. While on many projects, unforeseen changes to the design late in the process can cause cost blow-outs, Boral and Sandvik worked together to finalize the complete plan for the plant before the final supply and construction contracts were issued. "We spent about six months achieving commercial alignment as well as technical alignment on how to deliver the project," Kane says. "As a consequence, there were no variations at all during the execution phase, so our costs remained within budget and we also remained within time, as there were no changes required along the way."
Another innovative element of the approach, this time suggested by Sandvik, was the use during design and construction of 3D models. This way, it was possible to see the plant as a whole as well as the individual stations along the production process. Fabrice Bonneau, Sandvik's project manager for the design and supply of the plant, says such models provided major advantages over the 2D models traditionally used. "If you look at a 3D model of a screening station, you can see the access, the height of each of the platforms and the shape of the chutes and how this could affect blockages," he says. "We were able to have a clear view of what we were designing and share this with Boral for the review of safety, maintainability and accessibility features. It was a step ahead that Sandvik wanted to take."
Deer Park basalt quarry
Boral required a new-for-old replacement of its 25-year-old processing plant at Deer Park in the western suburbs of Melbourne. The new plant was required to scalp, crush and process basalt mined from the nearby quarry to create a range of aggregate grades, road base, ballast and sand. Sandvik was contracted to design and supply the plant and serve as a technical consultant during the erection and ramp-up phases. After extensive consultation with Boral, Sandvik supplied a range of jaw, cone and horizontal crushers, feeders, screens and conveyors as well as walkways and other infrastructure, most of which was shipped from Europe.
Kane says one key innovation achieved through Boral's close collaboration with Sandvik was a more effective way of dealing with the problem of processing poor-quality feeds in inclement weather. The deposit at Deer Park is olivine basalt with a significant amount of clay intraburden between the rock layers. The old plant was unable to process poor-quality deposits in bad weather, leading Boral to selectively mine the quarry and leave tracts of the site untouched. On Sandvik's suggestion, Kane says, Boral agreed to the use of special screens that had proved effective in Sandvik-designed processing plants operating in similar conditions in Europe. These have allowed the plant to approach far closer to its "mine anywhere, anytime" goal. "The solution that we adopted was the use of specific high-capacity screens that can handle extreme clay contents," he says. "I'm confident that we can now process over 90 percent of the time in all weather and pit conditions. I would like to say 100 percent, but the reality is that there will always be some extreme weather conditions and combinations of clays that will prevent us from achieving that."
About Boral
Founded in 1946 as Bitumen and Oil Refineries Australia Limited, Boral is today a major international supplier of building materials with operations on three continents. The company had revenue of AUD 4.4 billion (3.3 billion US dollars) in FY2017 from its operations in Australia, the United States and Asia. Boral has more than 16,000 full-time employees in 17 countries. Some of its major products include quarry products, asphalt, concrete, cement, fly ash, plasterboard, roof tiles, bricks and light building products.
The close collaboration with Sandvik also produced a range of other good ideas, including producing road base as a new product line with the help of a horizontal impactor. "Meanwhile, in the overall plant, we have adopted a modular hand railing system that's saved all site welding and allowed us to progress to site construction in a far safer manner than previously," Kane says. "And we have also installed two centralized dust collection units in the screening and crushing buildings, which have given us hygiene levels that are the highest at any of Boral's quarries." According to Jake Laine, maintenance team leader at Deer Park, the superior nature of the new facility is crystal clear for those working with it on a daily basis. "The working conditions at this site compared to the old one are a big improvement," he says.
"There's a very good dust extraction system, so that minimizes the dust by about 60 percent. And through the primary crushing area there's a better scalping circuit, so we have cleaner rock going onto our surge piles." While Sandvik has extensive experience in designing and supplying processing plants across Europe and Africa, it is a relative newcomer in this field in the Australian market. Thanks to the early contractor involvement stage and through research, Sandvik was able to seamlessly adapt the plant design to Australian requirements. "The safety rules here are different than in Europe, and we took that into account right from the beginning when designing things like the spaces between the steps and different angles required," Bonneau says. "Once you know the rules, it's a matter of following them and using the same process that we use anywhere in the world." With the project now approaching final handover, both Kane and Brown say they would be happy to work with Sandvik again. "The most impressive part of working with Sandvik was the team spirit that we were able to create together as a customer and a technology supplier," Kane says. "With that, we were able to overcome any technical and commercial issues that we were facing."