Wheeled dual-stage units
UD211 Dual-stage crushing unit
Equipment

Sandvik CJ409 jaw, CH420 cone

Feed opening

895 x 660 mm (35 x 26 in.)

Max. feed size jaw

600 mm (24 in.)

Max. feed size cone

130 mm (5 in.)

Capacity

Up to 150 mtph (165 stph)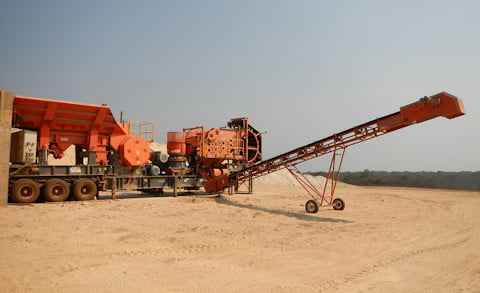 Sandvik UD211 is an integrated and compact design operating as a two stage closed circuit crushing and screening unit. We have ensured it provides a high level of performance and productivity by utilizing the reliable CJ409 jaw and CH420 cone crusher, all on one mobile chassis.
Renowned crusher technology

for reliability and high performance

FEA strength analysis

on structural parts and quality components for durability

Looping belt conveyor

for excellent feed to the screen

Highly productive

with the ability to produce up to four different fractions

Quick to set-up and easy to maintain

resulting in higher uptime and increased productivity
Product data
Additional product information
UD211

Sandvik UD211 is designed to provide a customer focused solution for material size reduction and classification at low operating costs. This machine is capable of achieving world class performance and operates economically, ensuring it is a perfect solution for a wide range of applications.

Fitted with the Sandvik CJ409 jaw crusher for reliability and high performance, this has a deep symmetrical crushing chamber which maximizes feed size, capacity and reduction. It is also easily adjustable to suit the needs of the task at hand.

The Sandvik CH420 cone crusher ensures smooth operation with a hydraulic cone hydroset setting (CSS) and overload protection for maximum uptime. Constant Liner Performance (CLP) crushing chambers permits constant feed acceptance capability, increased output, high quality products and increased liner life.

The equipment features the ability to produce four differenct fractions, whilst still compact enough to be able to easily move from site to site. It is also quick to set up and easy to maintain, which means you get more uptime and higher productivity.

Sandvik UD211 includes a number of elements to improve operator safety, and is extremely stable even in the toughest environments.

Additional advantages

Ease of access for service with foldable maintenance platforms
Security+  extended warranty & service package for higher uptime and peace of mind.