Tracked cone crushers U-Range
US440E Cone crusher
Equipment

Sandvik CS440 cone crusher

Max. feed size

500 mm (20 in.)

Capacity

Up to 600 mtph (660 stph)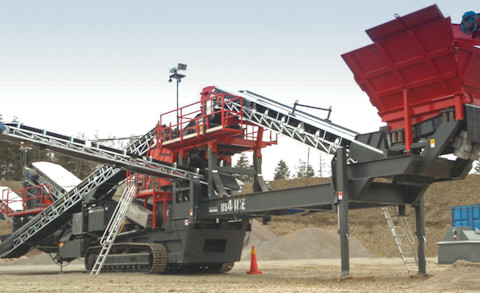 Sandvik US440E mobile cone crusher is a highly efficient electrically powered, track-mounted complete process unit with a cone crusher and screen onboard. Designed to meet the demands of quarry operators, mining companies or contractors working with highly abrasive materials, it is the ideal solution for your secondary and tertiary applications.
Ideal for high size reduction

and high capacity crushing

Advanced process automation

to ensure ease of operation

Pre-separation

before the cone crusher to maximize your productivity

Advanced process options

to meet your application-specific production needs

Flexible and easy

to configure for different requirements and climates
Product data
Additional product information
US440E

Sandvik US440E comes equipped with our high performing Sandvik CS440 cone crusher that will offer you strength and reliability. It is ideal for secondary applications where high size reduction and high capacity crushing is required.

Sandvik US440E incorporates a dual interlocking and intelligence system that is integrated with ASRi (automatic setting regulation system). This facilitates automated process optimization, as well as predicting maintenance issues, giving you maximum uptime.

Sandvik offers ultimate flexibility for your project with a wide choice of concaves and eccentric bush settings. We also offer a high capacity product screen and return conveyor for enhanced product quality, to ensure the equipment can meet your demands.

Sandvik US440E is one of the most versatile tracked machines on the market, and has been designed to suit even the most difficult application requirements.

Other models within this range of cones include Sandvik UH440i, US440i and UH440E.

Additional advantages

Low emissions and low cost per tonne due to flexible operation through electrical mains or onboard diesel generator
Security+  extended warranty & service package for higher uptime and peace of mind.