Wheeled jaw units
UJ210 Jaw Unit
Equipment

Sandvik CJ409 jaw, SW1043H feeder

Feed opening

895 x 660 mm (23.6 in.)

Max. feed size

600 mm (24 in.)

Capacity

Up to 235 mtph (359 stph)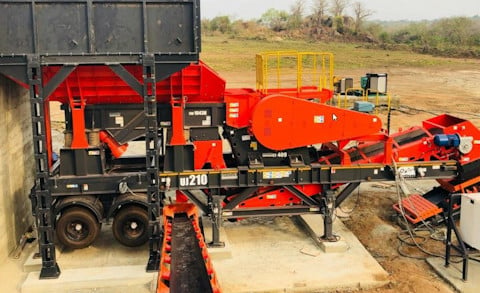 Sandvik UJ210 offers a primary crushing solution fully assembled on a single trailer frame and mounted on a double axle bogie. Equipped with the reliable and highly productive Sandvik CJ409 jaw crusher, if offers outstanding efficiency and productivity.
Ideal solution

for your primary crushing needs

Grizzly feeder

with adjustable openings and by-pass chute for greater flexibility

Easy setting adjustment

for simple and efficient operation

Soft starting crusher

for trouble free operation

Low cost per tonne

due to electric operation
Product data
Additional product information
UJ210

With Sandvik UJ210 you will see a smooth material flow due to the ideal nip angle that is very efficient in reducing product size. The jaw also has a deep crushing chamber operated by single-toggle and the settings can be adjusted for simple and efficient operation.

All features on this machine have been designed with your needs in mind, including feeder motors, starters and a user-friendly control panel to give you high productivity and increased operator safety.

Also available in the wheeled range of jaw crushing units are Sandvik UJ300 and UJ310 models.

Additional advantages

Quick to set-up and easy to maintain, resulting in higher uptime and increased productivity
Security+  extended warranty & service package for higher uptime and peace of mind.
Contact us
We are here to help, we are available in many places around the world. Just let us know.