Colliers future proof their plant with new Sandvik QE442e Hybrid
Collier Quarrying & Recycling Ltd. invest in a new hybrid scalper for their quarrying and recycling application in Fife, Scotland. The first Hybrid "e" equipped QE442 to be delivered in Scotland, this latest investment will give Colliers the versatility to switch between diesel-hydraulic and electric-hydraulic modes of operation, enabling them to lower their running costs, mitigate rising fuel costs, as well as playing their part in reducing their carbon footprint.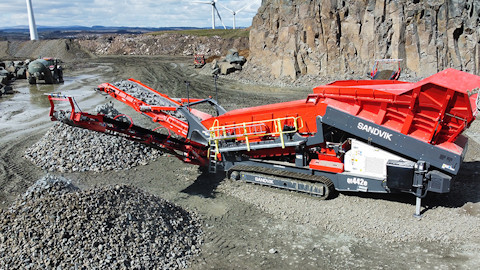 Collier Quarrying and Recycling Ltd. was established in 2007 when they purchased their first quarry and began recycling demolition materials into usable aggregate and sub base materials. Three years later planning permission was granted to extract dolerite whin stone from Goathill Quarry, Cowdenbeath, which has since become their main operating base. They now have the facility to offer high quality virgin stone and concrete products while continuing to recycle as much construction material as they can take in. They have grown into a reputable supplier of high quality aggregate products and services in the Edinburgh and Glasgow region.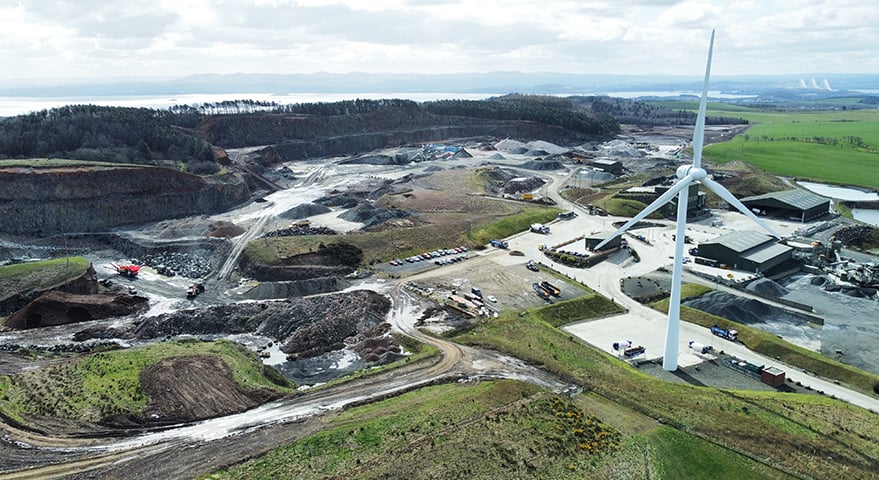 With sustainability at the forefront of their operation, Colliers continually seek to be as environmentally friendly as they can, planting thousands of trees on site to screen the quarry and make a positive impact to the local area. In 2013 they installed a large wind turbine to create renewable energy on site. This investment saw the initial move to electric powered equipment, where possible.
A longstanding customer of Sandvik, Colliers purchased their first unit over 15 years ago. It was the natural progression to move to a hybrid variant when needing to update their existing plant. The Hybrid "e" option, which is available on larger models within the Sandvik tracked screening products, offers customers the flexibility to run in either a diesel mode or an electric plug-in mode of operation.
Duncan Collier, Managing Director of Collier Quarrying & Recycling Ltd says,
We have always had a good working relationship with Sandvik and cannot fault the quality and reliability of their equipment. The majority of our fleet is now powered by electricity and it was the obvious choice to go with the hybrid model for our next investment.
The QE442e is an ideal fit for their existing fleet of equipment. With versatility at its core, the unit will be used for different applications on site. Sitting behind the stationary cone crusher, it will be processing aggregates and also independently for recycled aggregates. Fitted with 100mm punch plate and 40mm on the bottom, they are producing approx. 3400 tons per day.
The QE442e Hybrid "e" variant is the largest in the heavy-duty range of mobile scalpers and features the same class leading characteristics as the standard model. Its heavy duty 18' x 6' / 5.5 x 1.75m screen with high speed and aggressive throw is built for tough applications and can handle high volumes of infeed material. It offers the user-friendly features of the 2 series screens, including an electrical control system which improves both operational effectiveness and machine safety.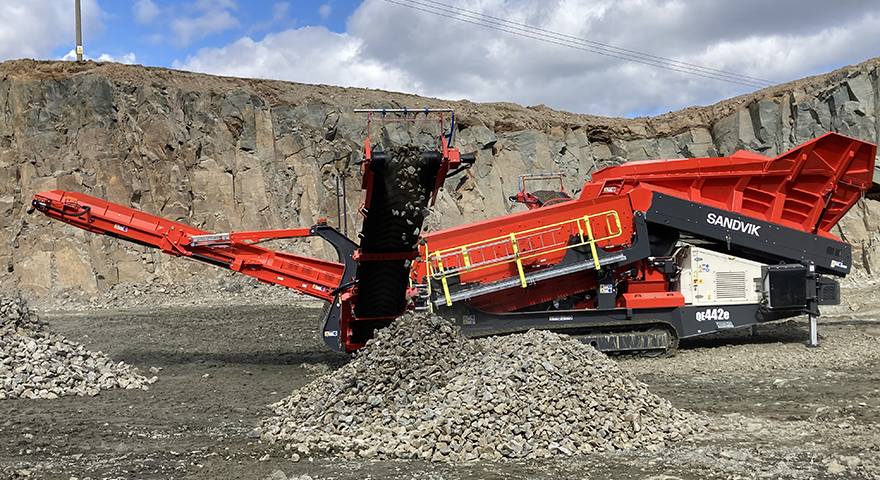 Lower fuel cost, higher uptime
In addition to the versatility and sustainability of the hybrid drive, the QE442e comes with many additional benefits for higher uptime and lower cost of ownership. The unit is fitted with the latest generation fuel efficient Stage V engine for maximum performance, reduced fuel consumption and lower environmental impact. The hydraulic system is optimized and reduced engine RPM lowers fuel consumption, whilst a well-proportioned fuel tank maximizes intervals between refueling. There is also a 50% hydraulic fluid saving with extended service intervals from 2,000 to 4,000 hours.
With the hybrid unit, we benefit from more uptime
Duncan continues, "There are less moving parts and filters to replace during maintenance, so we are saving not just a vast amount in terms of fuel costs but also less downtime by not having to re-fuel and carry out the regular maintenance checks associated with diesel machinery."
Another improved feature on the latest 2-series model, is the two-speed tracking. This significantly speeds up the time needed to move and relocate the machine within the quarry.
Adam Frame, Sales Area Manager for Sandvik Mobile crushers and screens, says "I have worked with Colliers since their beginning, commissioning the predecessor to the Sandvik QJ341 jaw crusher, an Extec C12, in their recycling yard in 2007. I am impressed with their modern and forward-thinking approach to the business, continually adapting their operations to the ever-changing environment. I expect that there will be a tendency for other customers to follow and we will see an increase in the alternative energy solutions we have available to offer within our mobile product offering."
For more information contact:
Melissa Baker
Marketing Communications Manager,
Sandvik Mobile Crushers and Screens
Tel: +44 (0)7725 259151
E-mail: Melissa.baker@sandvik.com