Brewster Bros invest in Sandvik to support their circular business
Family company Brewster Bros have recently taken delivery of a QJ341 mobile jaw crusher for their recycling operation in Livingston, West Lothian. They pride themselves on their state-of-the-art recycling plant and sustainable operation, from where they recycle, reuse and resell high quality products to their customers.
Brewster Bros is a family-run business which has evolved over the years, originating from an arable and livestock farm founded by Alex Brewster (senior), father of current chairman Alex Brewster, in 1954, transitioning to property management and development, then quarry restoration and since 2017, as a sustainable resource management business. They are now a one-stop-shop for recycled aggregates and waste management. They say their customers are making a positive impact on the environment by using their high quality recycled products and sustainable waste management services which saves them time and money.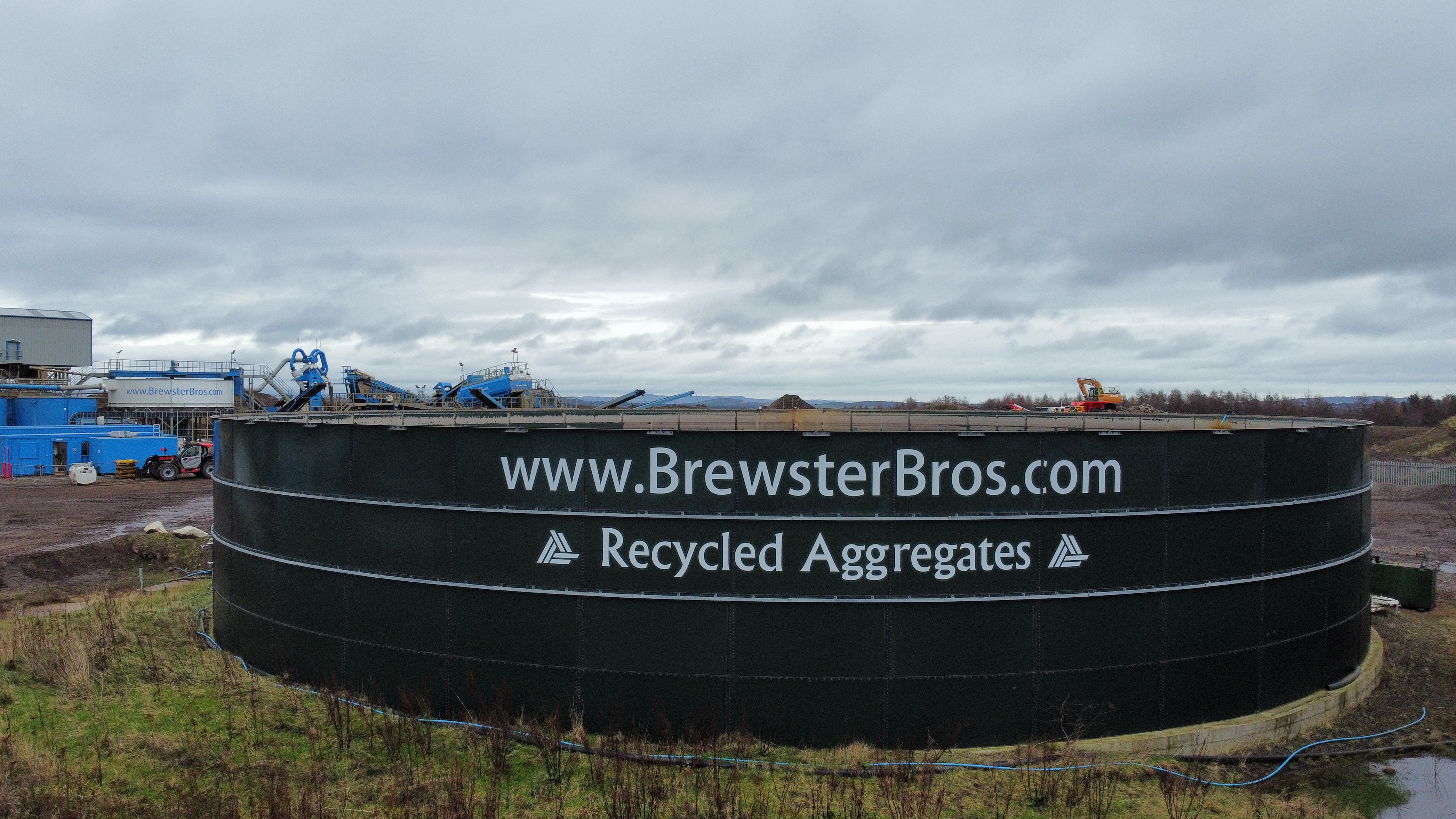 Originally farmers, the Brewsters are no strangers to circular thinking and it was during the restoration of a redundant quarry in the decade from 2007 to 2017, that twin sons David and Alex, along with Alex's son Scott (representing the third generation of family involvement), acknowledged that something had to be done. The restoration allowed for a residential scheme and associated country park to be created, using excavation waste from local construction sites as a backfilling material. This resulted in a large volume of quality materials going to waste. The realisation and desire to change the linear 'take, make, waste' approach in the construction industry became more apparent. This was the inspiration behind the business' innovative circular approach to waste management and recycled aggregates.
In 2017, Scott, Alex and David's vision was realised and Brewster Bros was incorporated to purchase the shareholdings of local haulage contractor Henry Gillies. The Brewsters took over Henry Gillies' fleet of trucks and HGV drivers, as well as the Drumshoreland Bing which at the time was an exhausted heap of spent oil shale which had previously been extracted for the secondary aggregate known as blaes. It has since been restored and is now the site for the recycling facility just outside Livingston.
In addition to their static wash plant, to recycle the construction, demolition and excavation waste, they needed a reliable piece of equipment which would withstand the daily rigours and huge volumes of material needed to be processed. This came in the form of an Extec mobile jaw crusher, (forerunner to the Sandvik QJ340 and current model Sandvik QJ341), which they bought as part of the Henry Gillies investment and they haven't looked back since. Needing to upgrade their plant to process the feed material to reduce to 75mm down to produce 6F5 crusher run, the QJ341 mobile jaw crusher was the obvious choice.
Out with the old in with the new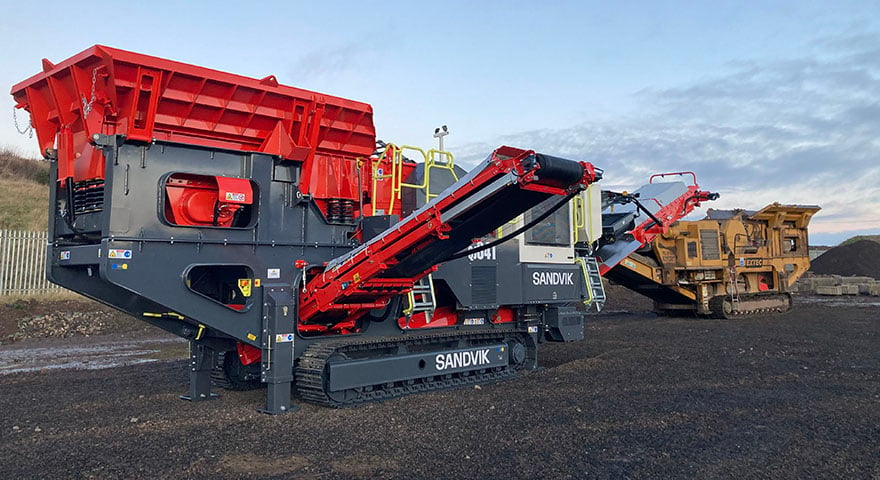 An evolution from its predecessor, the QJ341 comes with the same customer-focused features but now with a number of upgraded features for increased productivity, higher uptime, improved safety and ease of operation.
These include a load control system for the feeder drive and jaw level sensor to monitor feed and ensure continuous and uninterrupted crushing. Its user-friendly PLC control system combined with My Fleet telematics offers a more advanced and simple to operate machine. The wealth of data included with My Fleet, which comes with 7 year's complimentary data subscription, enables remote monitoring and minimal operator intervention, all through the visibility of data available on the online portal.
The QJ341 is the perfect solution for their recycling application. Featuring a 1200 x 750mm jaw, it has a hydraulically adjustable CSS and reverse crush function. This helps to relieve blockages, which combined with the hydraulically lowering main conveyor is a key benefit of the QJ341 in recycling applications.
Equipped with an emissions-compliant engine for reduced emissions and lower operating costs, the QJ341 has a lower environmental impact. One aspect which surprised Brewsters in comparison to their previous model is the dramatically lower noise emissions, which help to improve working conditions on site.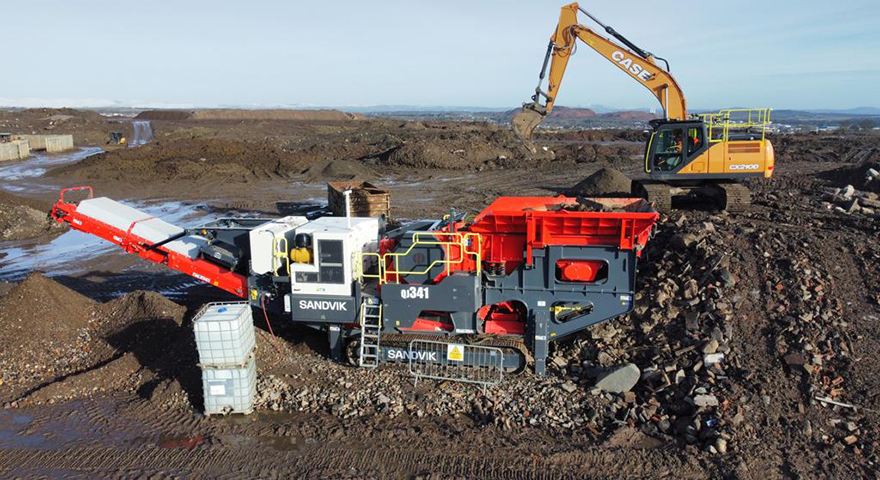 HVO Pioneers in the industry
Committed to reducing its carbon footprint and drive towards a more sustainable future, Sandvik Mobile crushers and screens are pioneers in the industry starting to use HVO (Hydrotreated Vegetable Oil), with the first units to leave the factory in 2021. Using this low carbon renewable fuel can reduce greenhouse gas emissions by up to 90% over the life cycle of the fuel compared to fossil diesel according to EU Renewable Energy Directive (2009/28/EC).This can easily be used as a 'drop-in' replacement over diesel, without the any need to change the engine or fuel systems.
This marries perfectly to Brewster's circular approach and company vision. Scott Brewster, Managing Director comments,
We pride ourselves on making a positive environmental impact. We have already switched over our fleet of trucks to HVO and knowing that we can do the same with our mobile crusher is a huge benefit.
Supporting Net Zero Carbon Emissions
Choosing recycled over virgin aggregates helps to support the local economy without damaging the local environment. Brewster's recycled aggregates comply with the WRAP Quality Protocol, are certified to the Specification for Highway Works and meet British industry standards. Their sand and gravel is high quality and comes with a low carbon footprint.
Brewster's contribution to the environment was acknowledged in the industry in October 2021 with the VIBES Outstanding Achievement Award, which was presented in partnership with the Scottish Environment Protection Agency (SEPA) and The Scottish Government, amongst others *. This prestigious award recognises Scottish businesses hailed for their environmental innovation and sustainability. As well as in December 2021 at The Herald's Scottish Family Business of the Year Awards where they took home the Family Business of the Year (Small) award.
Top class service and expertise
When asked about the level of service and customer support received from Sandvik, Scott says,
We have always had good experience with the old machine; good maintenance service and our sales representative knows our application and the machine inside out. We wouldn't hesitate to buy from Sandvik again. The service we receive is top class.
We congratulate Brewster Bros Ltd on their achievements and contribution to climate change and are proud to be selected as a supplier in their recycling operation. We look forward to working with them and continuing ourbusiness partnership for many years to come.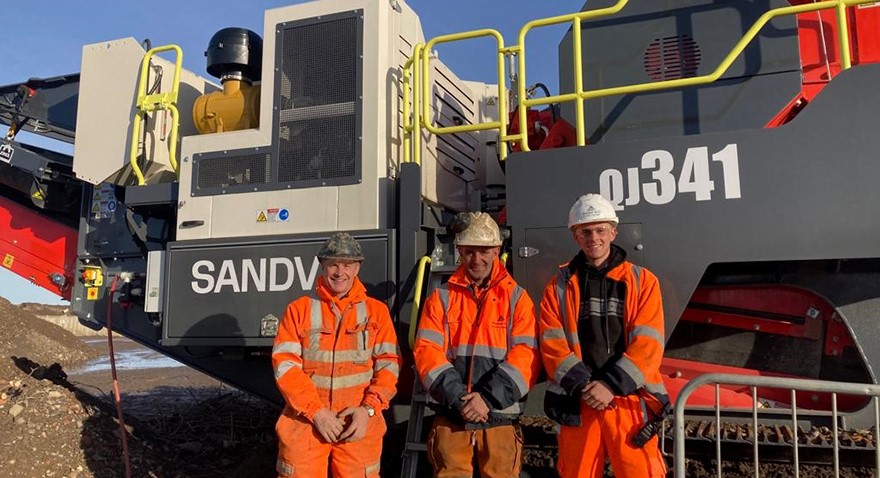 From left to right: Malcolm Livingstone, Plant Manager - Jamie McCrimmon, Plant Operator - Ethan Patterson, Plant Operator
For further information please contact:
Melissa Baker
Marketing Communications Manager
Sandvik Mobile Crushers and Screens
Tel: +44 (0)7725 259151
E-mail: Melissa.baker@sandvik.com
* The VIBES Awards are a partnership between the Scottish Environment Protection Agency (SEPA), The Scottish Government, Energy Saving Trust, Highland & Islands Enterprise, Scottish Enterprise, South of Scotland Enterprise, Scottish Water, Zero Waste Scotland and NatureScot.