Brown & Mason helping to clear the way to a lower carbon future
Brown and Mason Group Limited, specialists in the demolition sector, were commissioned to demolish Rugeley 'B' power station in Staffordshire, United Kingdom. To assist in the recycling of the demolition material Brown and Mason decided to stick with what they know best and purchase a third QJ341 mobile jaw crusher to work alongside the two units they already own. The clearance of this site is for an exciting new development of a low-carbon community.
Brown & Mason Group Limited (B&M) are a family owned and run company and over the past 60+ years they have established themselves as one of the largest demolition companies in Europe and now employ approximately 350 people. During the course of the company's history, the types of projects have been varied and have included, but not limited to, urban regeneration, asbestos removal and heavy industrial demolition, including the decommissioning and site clearance of over 55 power stations.
One of these projects has been the demolition of Rugeley Power Station, which comprised 2no 500 MW coal-fired generating units and 4no 117m reinforced concrete cooling towers. The station was commissioned in the early 1970s and finally closed its doors in 2016. For the demolition of this site, Brown & Mason, the Dartford-based demolition company, were employed by Engie Group to execute the safe demolition and clearance of the site. After months of careful planning, the cooling towers were successfully demolished on 6th June 2021.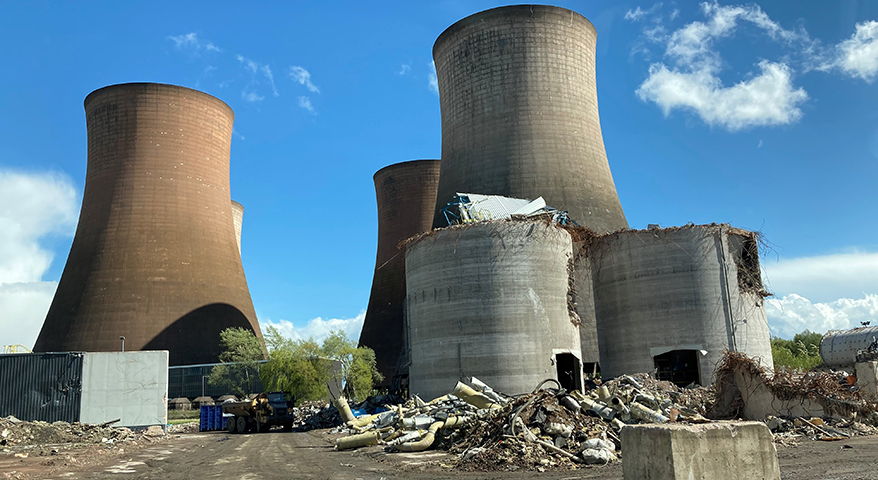 Now comes the recycling process. For the site clearance, Brown & Mason needed a reliable jaw crusher to recycle the demolished arisings into re-usable material. Customers of Sandvik since 1998, and owning two units of QJ341 mobile jaw crushers, B&M were already familiar with the benefits which the bestselling QJ341 model has to offer. Due to the increased demand and volume of material to be crushed, they decided to purchase a third unit for the site in Rugeley. Nick Brown, Managing Director of Brown & Mason commented
With the reliability of the QJ341 and aftermarket support we have received, Sandvik was the first choice of supply when it came to investment in an additional unit.
Retec Equipment, recently appointed distributor for Sandvik Mobile crushers and screens for the Greater London and South-Eastern counties, were able to offer and deliver a QJ341 unit within the required timeframe. Ronan Herity, Sales Director of Retec comments "We were delighted to be able to supply another QJ341 and continue the trusted relationship between Sandvik and Brown & Mason".
Ideal for demolition projects, the QJ341 comes with a number of features specifically designed for recycling applications. These include a reverse crushing action for relieving blockages and a hydraulic raise and lower facility on the main conveyor. This has proved particularly beneficial for Brown & Mason due to the large proportion of steel content in the feed material. The main conveyor can be operated at a lower discharge height to give greater clearance between the magnet and conveyor, as well as enabling easier access for maintenance. Its hydraulic drive enables the crusher to start under load, minimizing downtime and a jaw level sensor ensures optimum flow of material into the crushing chamber. The QJ341 also comes fitted with Optitooth™ jaw plates for extended life, increased throughput and reduced fuel consumption. These features, combined with Sandvik My Fleet remote monitoring system, all help to minimize operator intervention, maximize uptime and achieve optimum output at all times.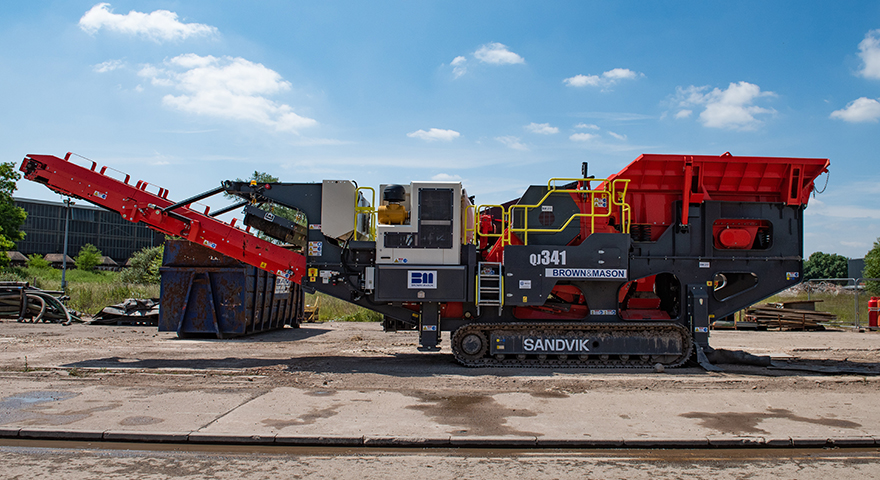 Flexibility with mobile solution
The new QJ341 is being used to crush the material at the site more or less wherever, and whenever, it is required. The machine can be tracked with ease to the material, rather than taking the material to the machine. Set at a CSS of approx. 60mm to reduce down to 0-90mm dust, the new QJ341 is working alongside an existing unit to process the sheer volume of material following demolition of the four cooling towers. The project is to be completed by the beginning of September.
Working to a lower carbon future
Brown & Mason has developed a reputation for excellence in demolition and dismantling as well as minimizing the impact of their works on the environment, this is a achieved by attaining an average waste recycle rate of 98% across all of their sites as well as investment in their plant and machinery.
This ties in well with the future development of the demolished power station. Following completion of the site clearance work, the site owner and regeneration specialist, ENGIE, will progress with plans to redevelop the site into a low-carbon mixed use community. This green development site was granted outline planning permission in April 2021 and will include 2,300 new low carbon homes with low carbon all through school. This is an exciting development for the local area and a great example of how a site can be regenerated to help achieve a lower carbon future.
Sandvik, as a manufacturer with a focus on sustainability and drive to a more circular economy, is delighted to be involved in this redevelopment project. The QJ341 product itself, contributes to a lower carbon footprint through its emissions-compliant engine with reduced emissions and we are pleased to see the vital role Sandvik mobile equipment is playing in this redevelopment to lead to a greener future.
For more information contact:
Melissa Baker
Marketing Manager
Sandvik Mobile Crushers and Screens
Tel: +44 (0)1283 212121
Email: Melissa.baker@sandvik.com