Sandvik mobile crushing and screening solution delivers in China
Hunan Yan Run construction engineering Ltd. has in recent years found a successful niche specializing in real estate groundworks. This is combined with the production and sale of construction aggregates and slate. In order to continue to grow and supply aggregates and materials, the company identified a need for a modern, versatile and highly productive crushing and screening solution. To this end, Hunan Yan Run chose one of the most productive mobile combinations available, a Sandvik QI442 HS and QA335 Doublescreen.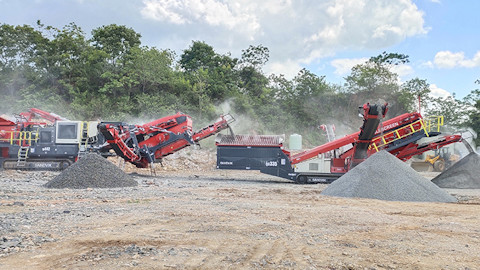 Founded in 2018, Hunan Yan Run construction engineering Ltd. has in its short time of operation become quite the thriving enterprise. Located in the economically buoyant Hunan Province in the Pearl River Delta business area, it now employs over 100 staff. The company specializes in preparing land for real estate construction, rock blasting and aggregates supply, both from construction site materials and quarried limestone. In order to provide an efficient and productive service tailored to the requirements of its growing customer mix, the company has invested in over 40 pieces of construction machinery, including excavators, wheel loaders and breakers. Additionally, crushing and screening has been undertaken by stationary and mobile units.
Satisfying requirements
Due to its varied customer base and their exacting and diverse requirements, Yan Run became aware of the need to update its equipment fleet, specifically its mobile crushers and screeners. In recent years great advances have been made in terms of efficiency, productivity and environmental performance with regards to screening and crushing. Hence Yan Run was aware that its outmoded existing fleet could no longer provide the accuracy or versatility the company requires, nor deliver the bottom line performance or meet China's increasingly stringent environmental legislation. All in all, a modern solution was required.
Although involved in a variety of related construction activities, the core business activity for Yan Run is aggregates, whether for its own use or supply. When a site is excavated, a great amount of the material can be processed to be used on site as foundations or sold to other construction companies. In addition, the company also processes quarried limestone, producing aggregates mainly for concrete batching plants as well as purchase by other companies. To this end, Yan Run had quite exacting requirements for any new crushing and screening plant. It would have to accept a feed size of around 500mm and produce highly accurate fractions (0-5mm, 5-10mm, 10-20mm, 20-31.5mm) at a constant production rate of 200-250t/h. In order to source this combination, Yan Run turned to a company that has developed a first class reputation in China: POTA Environmental Technology Co., Ltd.
Sandvik Mobiles dealer
POTA Environmental Technology Co., Ltd. has in recent years gained an excellent reputation for providing high quality construction solutions. The company has cemented its position in China by supplying a full range of modern mobile crushing and screening solutions, being Sandvik Mobile Crushers and Screens authorized distributor. Thus it was no surprise that POTA was contacted by Yan Run, which explained in depth the solution it required to further develop its business. Having gained an understanding of what the company required, POTA recommended Sandvik Mobiles' QI442 HS, its latest tracked impact crusher with modular hanging screen unit,, one of its latest developments, as well as a QA335 Doublescreen. This provided Yan Run with a mobile crushing and screening solution with the highest environmental credentials, as well as possessing features which would enable highly productive and profitable use. Furthermore the combination of impact crusher with triple deck hanging screen on the QI442 HS was seen as the ideal combination for Yan Run's diverse requirements.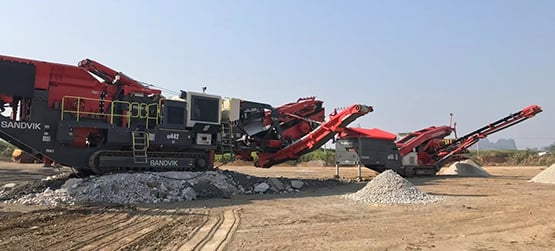 POTA, and Sandvik Mobiles, are both well known to Yan Run, with the former having a reputation as a highly professional 'expert' company, whilst Sandvik is an internationally respected brand, with the Mobiles being synonymous with quality and productivity. Due to the well-known capabilities of the Sandvik crushers and screens, Yan Run was pleased to follow POTA's recommendations. Yan Run was also aware of Sandvik Mobile Crushers and Screens reputation of being manufactured to the highest standards, delivering excellent levels of production, drawing upon industry know-how for the very best in crushing and screening. Furthermore, as POTA not only supplies equipment but also provides aftermarket support (including spare parts), commissioning and technical advice, and the care of any equipment would be in the safest possible hands.
Crushing and screening in one unit
The Sandvik QI442 HS impactor (and QA335 which is part of Sandvik's unique Doublescreen range of tracked screeners) supplied to Yan Run came equipped with a range of customer focused features. These are designed to improve return on investment and usability for the operator. A pre-screen is fitted to ensure maximum scalping capability and to prevent any undersize material passing through the impactor, thus maximizing throughput and reducing wear costs. This also allows a specific sized product to be produced from the natural fines conveyor. The pre-screen also has a choice of grizzly or punch plate top deck and mesh bottom, providing the flexibility to suit any application with the underpan feeder drastically reducing spillage generally associated with impact crushers. The crusher's CI621 Prisec Impactor, which comes with a host of innovations for improved efficiency and greater safety during maintenance, provides the ability to operate in either primary or secondary crushing modes. Additionally, the two hydraulically assisted curtains can be readily adjusted to produce a wide range of high quality product sizes.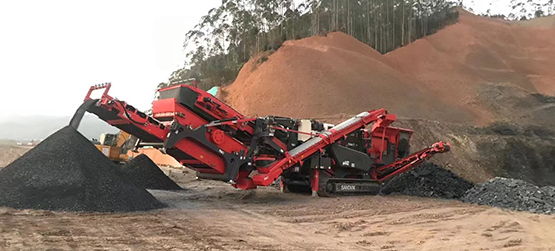 Another major benefit incorporated into the QI442 HS model is the modular hanging screen system. This is interchangeable and offers the flexibility for the crusher to operate in open or closed circuit. The unique design enables set-up in less than 30 minutes and can be fitted without the use of additional lifting equipment. The patent pending hanging screen option delivers multi-functionality as a 1, 2 or 3-way split screener, as well as operation as a highly productive and efficient impact crusher. The double deck hanging screen enables the machine to produce two screened products and recirculate the oversize back into the feed conveyor. The oversize conveyor may be hydraulically rotated for material stockpiling (90°) of up to three products on the floor, or removal (180°). The tail section can be raised hydraulically to give improved ground clearance for transport when loading or unloading. Combined with the Doublescreen action of the QA335, Yan Run now has the capability to produce highly accurate gradings and fractions in one swift and effective process.
As with all Sandvik's tracked range of crushing and screening equipment, both models are fitted with Sandvik My Fleet remote monitoring system as standard. My Fleet has been developed to help customers know exactly how their equipment is being utilized. Through the collection and accurate monitoring of a wide array of parameters, this facilitates accurate production forecasting, ensuring that the most efficient use is obtained from equipment, and thereby maximizing return on investment.
Very satisfied customer
The user friendliness of the equipment has also proved to be of direct benefit to Yan Run. Features endemic to Sandvik Mobiles products have enabled the excavator and wheeled loader operators to efficiently and effectively combine activities with the QI442 HS and QA335. This has not only been of benefit to the operators, but has made the entire aggregates production process more efficient, thereby directly contributing to Yan Run's improved profitability and leading to a highly satisfied customer.
Since commissioning (by POTA technicians who continue to support Yan Run in the field), the Sandvik crushing and screening combination has consistently worked at 250t/h, producing the required fractions, very accurately. What has also been noted to Hunan Yan Run's great delight is that the Sandvik Mobiles QI442 HS and QA335 Doublescreen have proven to be easily maintained and serviced thereby ensuring that any machine downtime is limited whilst also proving to be versatile to deal with any unexpected requirement. This combination is now producing the aggregates Hunan Yan Run construction engineering Ltd. required, rewarding the trust the company placed in the Sandvik brand and the reputation of both POTA and Sandvik Mobiles to deliver high quality performance.
For further information, please contact:
Melissa Baker
Marketing Manager
Sandvik Mobile Crushers and Screens
Tel: +44 (0)1283 212121
Email: Melissa.baker@sandvik.com