Keeping it civil
When Sunshine Coast earthmoving company Black Cat Civil won a lucrative quarry contract late last year, it needed equipment fast. Director Jai Tomlinson chose Sandvik Mobiles' distributor Porter Group to supply six brand new Sandvik mobile crushers and screeners, with the gear arriving in a matter of weeks.
It's been an eventful last 12 months for indigenous-owned earthmoving and plant hire company Black Cat Civil. The Nambour-based company's reach is felt right across northern Australia, servicing road and construction projects from Alice Springs up to Darwin, right through Queensland and into NSW.
Director Jai Tomlinson sums it up simply: "We work anywhere that's building infrastructure." Beginning in 2006 as a wet plant hire business, it has now grown to 185 employees, nearly a quarter of whom are indigenous. It's a proud achievement for Jai, whose family heritage is the Kabi Kabi people of the Sunshine Coast. Another proud achievement is a deal Tomlinson put together late last year, winning the tender to crush and screen rocks from a local council quarry. The tender was awarded by Sunshine Coast Council on December 6, with work to start on January 4. While Jai knew his company was fully capable of getting the job done, there was a small hiccup: he didn't yet have the necessary equipment. "It required a lot of gear," says Tomlinson. "We had to lock down a deal, work out how to get the plant equipment we'd promised that could crush and screen the rocks, and deliver it all in less than a month. It was something we'd never done before in that timeframe."
Complicating things further were regulations that meant oversize equipment couldn't be transported in the Christmas period. But Tomlinson knew they would get there, somehow. "We're a business that makes things happen in a short amount of time, but this was tight."
Enter the Porter Group. Tomlinson had never dealt with Porter Group before and admits he was sceptical at first about whether the promise of six brand-new pieces of Sandvik equipment could be delivered on time. "We needed a jaw crusher, a scalper, a primary cone, tertiary cone, a two deck screener and a three-deck screener," says Tomlinson.
Porter Group said they could get the gear out of various places around the country in time, and they did just that. It was quite incredible that they could turn that request around in such a short amount of time."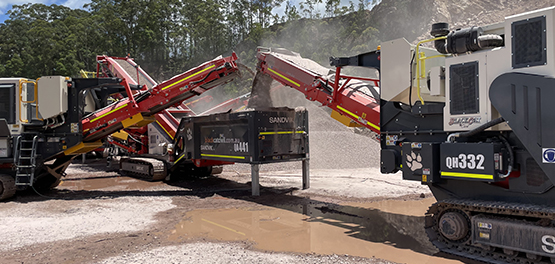 The Sandvik equipment consisted of a QJ341 jaw crusher, a QE342 scalper, a QH331 and QH332 cone crusher, a QA441 2 deck screen and a QA451 3 deck screen. It started rolling in just before Christmas curfew and, when the deadline of January 4 hit, the operation was up and running. Tomlinson comments:
The Porter Group guys did exactly what they said they were going to do, which you don't always get in this game. They went over and above our expectations to deliver that Sandvik gear, and we couldn't be happier
The Sunshine Coast quarry is now the largest of Black Cat Civil's four crushing and screening operations, with seven machines working simultaneously in a chain to meet their customer's needs. The team is currently processing around 1,800 tonnes of material a day, utilizing the six Sandvik machines alongside a Cat excavator. It's a complete process, from crushing large stones at one end to spitting out crusher dust at the other, and all types of aggregate inbetween. An outside contractor handles the drill and blast, and from there the team feed the Sandvik crushers and screeners and manage the product through the chain to the aggregate, which the council then moves out with its own loaders. "We use the gear in different combinations to get the outcome we're after. The jaw crusher is first in line and gets your rock down from 600mm to a reasonable size to feed through your cone," says Tomlinson.
It was important for us to put the scalper in as number two, behind the jaw, because the quarry wanted a 2.5mm gravel. We could then rip off that gravel, put cleaner rock through our cones, and have that rock go back through our screens, and that's where we get our aggregates.
Tomlinson says that Porter Group's suggestion of utilizing the scalper was right on the money, literally. "If we didn't have the scalper in there we would be having to mix the material on the back end, which would be less efficient," he says. "We'd probably only get 1,200 tonnes a day, so less yield and less revenue."
So Porter Group were great in that they understood our business and understood exactly what we were trying to achieve.
Three people are required to run the operation at the quarry: one to feed the jaw crusher from the excavator and two to supervise the 21 active belts running on the six machines. The Sandvik equipment has enabled the team to produce a variety of end products for their customer. "600mm rock is the feed," says Tomlinson. "And out of that rock we'll get a 2.5mm road base, a 30/40 aggregate, a 40/70 aggregate, a 20mm, 10mm and 7mm aggregate, and crusher dust. The council then picks it up off our belts and sells it to market. It's a partnership, in essence – we do well and they do well."
Outstanding local support
Local support from Porter Group has been outstanding, Tomlinson adds. "They have a Brisbane office, but they also have local technical support just five minutes away here on the Sunshine Coast."
Consistency of product also helped seal the deal, with Black Cat Civil running Caterpillar engines in all their earthmoving equipment. "The Sandvik gear all run Caterpillar engines, too, so it aligns with our business model," says Tomlinson. Black Cat Civil mining services manager Jason Dowling looks after the quarry site and agrees with Tomlinson's assessment.
"The Sandvik equipment has a lot of common componentry with our Caterpillar machines, and it's all performed really well. We'll found it really easy to pick up and learn their operation," says Dowling. Onboard telematics has also given the team control over remote monitoring.
The telematics capabilities will continue to develop, but we already get the benefit of monitoring feeder rates, engine hours, run time, idle time, all that important stuff.
With the operation running smoothly, Tomlinson can finally breathe a sigh of relief. Getting a new major project off the ground is never easy, but those last weeks of December were unfortgettable.
"It was so important for us that everything came together, to meet our customer's expectations. We spent $4 million on capital expenditure once the contract was awarded, which included the Sandvik equipment, so the stakes were high. I'm just so pleased with how Porter Group supported us the whole way. It's made a daunting process easy.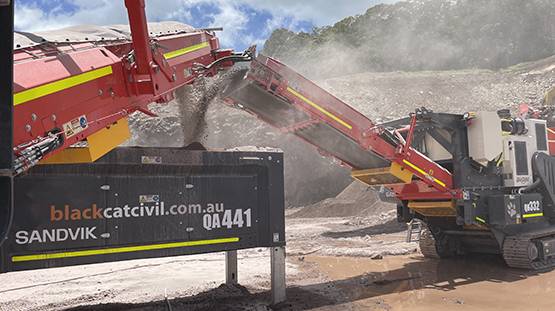 First published in Earthmovers and Excavators publication in May.