Gibson Bros Ltd impressed with new Sandvik mobile crushers
Sandvik really know the needs of their 'local market' which is one of the reasons we opted to deal with them says Mark Gibson of Gibson Bros in Ireland who have recently purchased a Sandvik QJ341 mobile jaw crusher and QH332 cone crusher.
When Gibson Bros Ltd invest in new equipment they like to keep it 'local' if at all possible, and that's been the case when they recently acquired two new machines from Sandvik, whose factory at Ballygawley is known as one of the world's premier manufacturing facilities for mobile crushers and screens; it also is home to the manufacturer's first class Centre of Excellence.
Founded in 1950 by William and Jack Gibson, Gibson Brothers Ltd has developed into one of Ireland's most recognised family owned businesses operating in the Quarrying / Civil Engineering and Surfacing sectors. The business has grown, diversified and continues to develop in delivering innovative engineering solutions to a host of public and private sector clients. Gibson Bros operate several quarrying facilities throughout Ireland, providing high PSV aggregates for use in civil engineering, road construction, road maintenance and concrete manufacture.
The company recently added a QJ341 jaw crusher, one of the largest in the Sandvik Q-range and the flagship of the mobile range, and a Sandvik QH332 cone crusher.
Gibson Bros Ltd Quarry Manager Mark Poots says "local knowledge is very important, and Sandvik really know the needs of their 'local' market, which is one of the reasons we opted to deal with them. The QJ341 is replacing an older Extec C12 which has been working in the quarry since the early 2000s, while the QH332 cone is additional and is linked to a mobile crushing train to help us cope with an increasing demand for quarry products." Mark continues:
The new equipment is performing efficiently at our quarry in Portadown; the QH332 cone in particular has a great reduction ratio with good cubical shaping which is crucial when put in train for aggregate production.
Mark also praised the load control system for the feeder drive and jaw level sensor on the QJ341. "It's a great help in maintaining a steady feed to the jaw to maximise tonnage per hour." Gibson Bros are currently in the process of setting up Sandvik My Fleet on the new equipment, and says Mark:
It will give us remote access to the Sandvik machines and will help us pick up on possible production problems and mechanical issues more quickly, as well as enabling us to organise servicing well in advance. My Fleet is clearly a big bonus.
Best Selling
Utilising Sandvik's unrivalled design and manufacturing expertise, the QJ341 is one of the best-selling track mounted mobile jaw crushers in the world today, designed for quick set-up and ease of operation. Equipped with a C12 jaw crusher, and a powerful and fuel-efficient engine, it features a 1,200 x 750mm (47 x 29 in.) jaw opening, built to tackle the most difficult applications with ease. It has been designed to meet the needs of the operator seeking a high performance mobile jaw crusher which is both reliable and durable.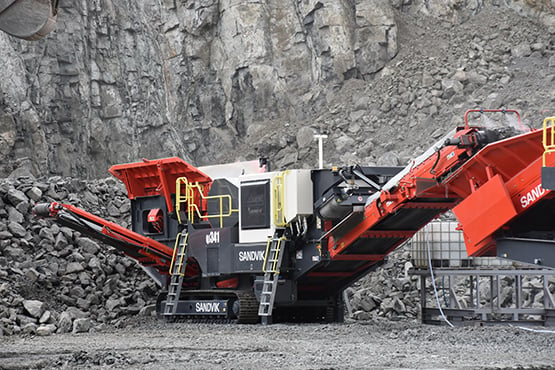 With a large feed opening and unique high crushing speed it is capable of delivering high outputs with excellent reduction ratios. In addition to this, the equipment can start under load, which enables maximum uptime and productivity. The hydraulically adjustable jaw setting can be tailored to your application and the reversible crushing action can relieve blockages and deal with sticky problematic materials. The improved load control system for the feeder drive ensures continuous, uninterrupted crushing, keeping productivity levels consistently high, as Gibson Bros have discovered.
Fitted with Optitooth™ jaw plates for extended life, increased throughput and reduced fuel consumption, the Sandvik QJ341 mobile jaw crusher is also as user-friendly as it is productive. Full PLC control system and colour screen allow visual data output of all plant operating parameters, contributing to complete control of material flow.
Extensive use of steel pipework gives superior heat dissipation whilst providing a maintenance free sealing solution. Easy access to the engine compartment and in-built automatic central lubrication system reduces maintenance time, and with wear resistant liner plates fitted as standard, you can keep your crusher working even on the most challenging applications.
Cone Crusher
Sandvik QH332, meanwhile, features the Sandvik Hydrocone crusher and comes with a number of features to ensure maximum uptime and minimum operator intervention. At the heart of this machine is the Sandvik CH430 cone crusher; this advanced piece of crushing technology comes equipped with a hydroset system, which puts the user first by providing both safety and setting adjustment functions. In addition, the automatic setting regulation system will not only optimise production but will also keep track of liner wear.
The cone comes with a choice of six different crushing chambers and a number of different bush settings, making it the ideal choice for a huge variety of crushing jobs. This machine is powered by a 261kW (350hp) engine and a fuel efficient direct drive system to ensure maximum production capacity and maximum power transfer.
Remote camera viewing of the crushing chamber ensures full visibility without the need to access the machine, while there is superb access around the crusher for easy maintenance, especially during liner changes. Other safety features include audible and visual warning for safe operation whilst tracking and start-up / shut down, emergency stop buttons and conveyor pull stop cords around the plant for easy access during operation, and a wireless radio handset and proportional speed control for safe tracking onsite.
Spacious platforms provide safe access for service and maintenance, with dust suppression spray bars and an onboard water pump to minimise dust.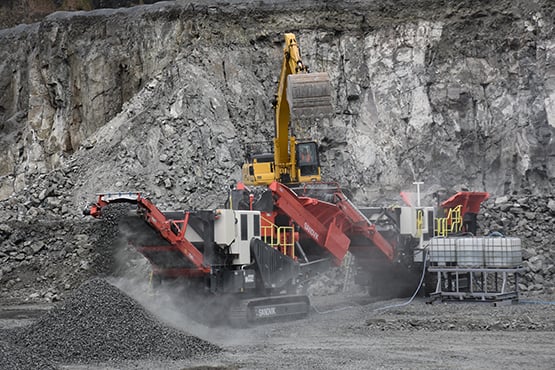 Aftersales Support
Aftersales service and support, of course, is always an essential ingredient to keep the potential for unnecessary downtime at a minimum, and Gibson Bros Ltd have no complaints in that area.
Sandvik have provided us with an excellent level of service to date; any issues or queries have been dealt with promptly,
says Mark, who also revealed that a third Sandvik machine – a CH430 static cone crusher – is to join the fleet.
First appeared in Plant & Civil Engineer May-June 2021
For more information contact:
Melissa Baker
Marketing Manager
Sandvik Mobile Crushers and Screeners
Tel: +44 (0)1283 212121
Email: melissa.baker@sandvik.com