Tracked screens
QA335 Doublescreen
Equipment

Sandvik 2 deck Doublescreen

Screen size

4 x 1.5 m (13 x 5 ft)

Capacity

Up to 400 mtph (441 stph )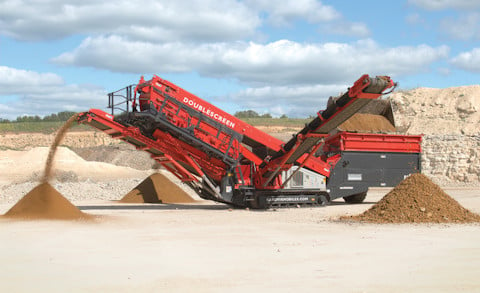 Sandvik QA335 mobile Doublescreen is a highly productive machine that comes equipped with our world-class, heavy-duty Doublescreen system.
World Class Doublescreen technology

offering greater adjustability, increased accuracy and higher screening efficiency

Both screens independently adjustable

for greater screening accuracy

Versatile unit

capable of producing large volumes of high specification product

Large volume hopper

complete with remote control hydraulic tipping grid

User-friendly PLC control system

with sequential start-stop for speed and ease of operation
Product data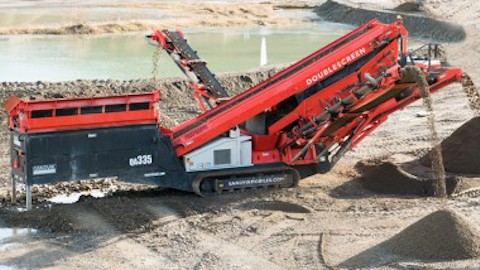 Additional product information
QA335

Sandvik QA335 is designed to target the specific needs of your recycling, mining and contracting projects. Featuring Sandvik Doublescreen system, this innovative technology has two high velocity, angle adjustable screens, where both the primary and secondary screening angles can be adjusted to optimize screening performance and accuracy. With two independent double deck screens you get a single machine capable of performing two screening processes.

It comes equipped with a range of user-friendly features aimed at improving the overall operator experience, with sequential start up, radio remote control and two-speed tracks as standard. We have also fitted it with a complete wrap-around walkway to provide you with a safe working platform for service and maintenance.

To maximize your return on investment, Sandvik QA335 has been manufactured to run on low operating costs, with a real focus on optimum fuel economy. This also reduces the environmental impact of the equipment.

Also available within our screener range are Sandvik QA441 and QA452.

Additional advantages

Full radio remote control and two speed tracking for safe and efficient movement
Designed for optimum fuel economy and low operating costs
My Fleet remote monitoring system with 7 year data subscription to help optimize your machine operation
Security+  extended warranty & service package for higher uptime and peace of mind.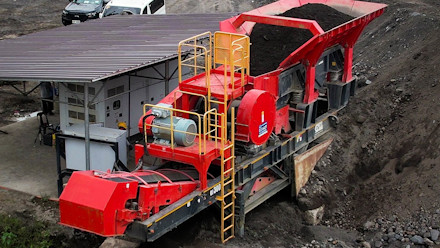 Wheeled and tracked duo prove just the job for Makapa Corporation in the Philippines
Makapa Corporation in the Philippines are operating a UJ300 wheeled jaw crushing unit together with a tracked QA335 Doublescreen. Processing river gravel to produce material for their own construction company, they have been delighted with the performance and production capacity of this mobile duo from Sandvik.