Sandvik Mobile Crushing and Screening launch fully electric heavy jaw crusher
Sandvik continues to drive the sustainability shift in the crushing and screening industry with the launch of the fully electric, UJ443E heavy jaw crusher.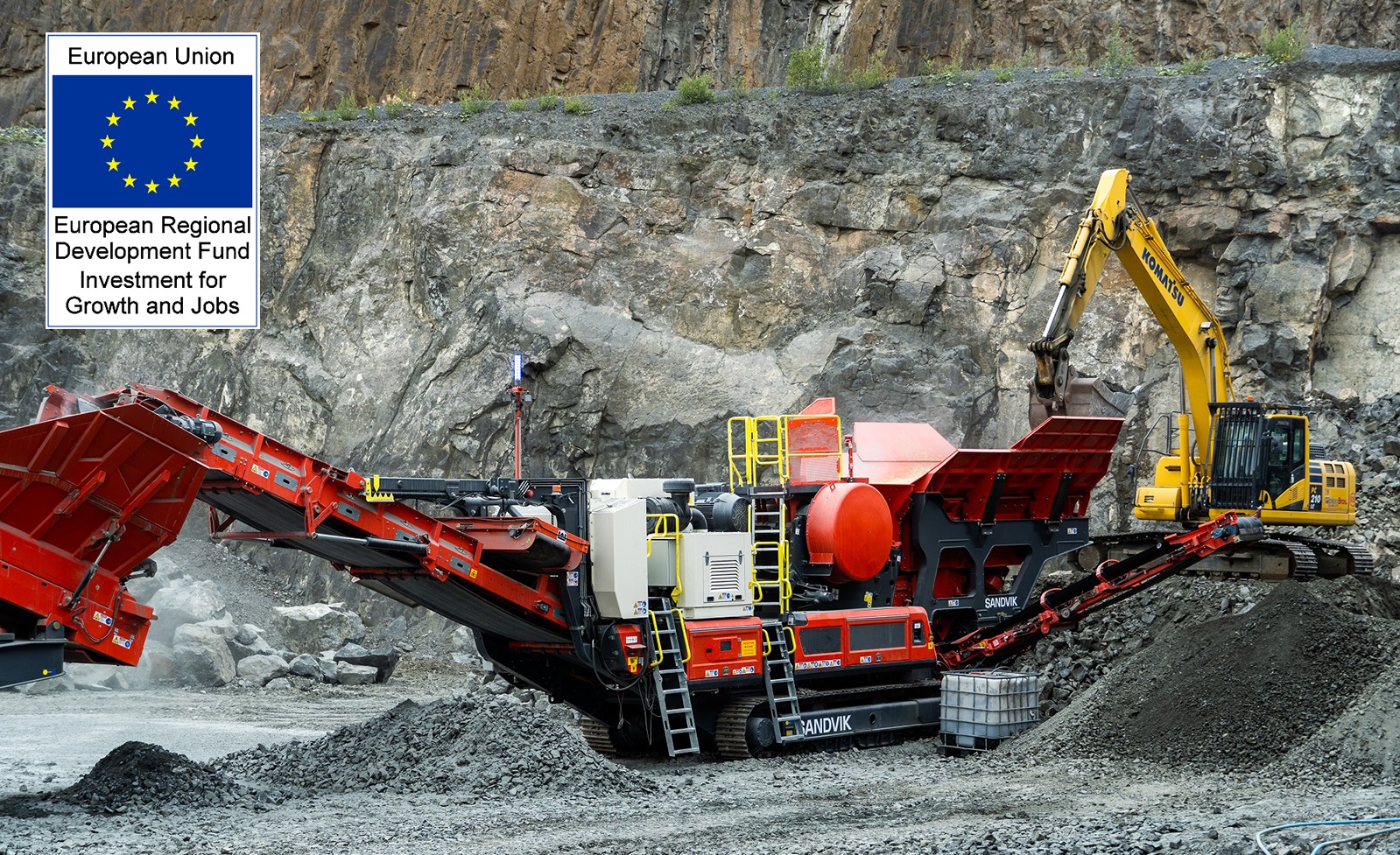 The Sandvik UJ443E is built upon a new 'fully electric' track platform and features high quality, reputable componentry throughout, as well as the latest generation Sandvik CJ412 jaw crusher.
Its new modular feed station includes a larger hopper, two feeder options with larger grizzly cassettes & an optional under screen for greater natural fines extraction before crushing, allowing operators to optimize their process flow depending on feed conditions and material.
Capable of operating in the most hostile environments, the UJ443E is designed for hard and abrasive rock applications. Ideal for the quarry, mining and contractor segments, this unit is one of the most versatile and sustainable heavy-duty, mobile primary jaw crushers available today.
As part of the continuous R&D programme of Sandvik Mobiles, this project received support from Invest Northern Ireland under the European Union's Investment for Growth and Jobs Programme.**
A sustainable solution
Aligning with Sandvik's "make the shift strategy", the UJ443E has been designed with an increased focus on sustainability, productivity, and durability, whilst retaining the look, feel and value proposition customers' demand. The fully electric UJ443E provides customers with up to 30% reduction in fuel consumption* and up to 30% increase in throughput* versus previous generation products.
It features electric final drives and an onboard genset, meaning it can be operated in a more sustainable way, being powered by either an external electricity supply, HVO or diesel from the onboard genset. Operating whilst connected to the external electric source can bring several advantages, including lowering running costs, extending drive train service intervals, reducing time spent refuelling, reducing onsite emissions and lowering noise levels. The fully electric track drives and final drives allows us to decrease the use of hydraulic oil on the plant by up to 91%*.
The UJ443E features a 125Amp downstream connection which allows customers to operate a downstream plant such as a screener or scalper, providing up to 20% decrease in fuel consumption compared to running separate units.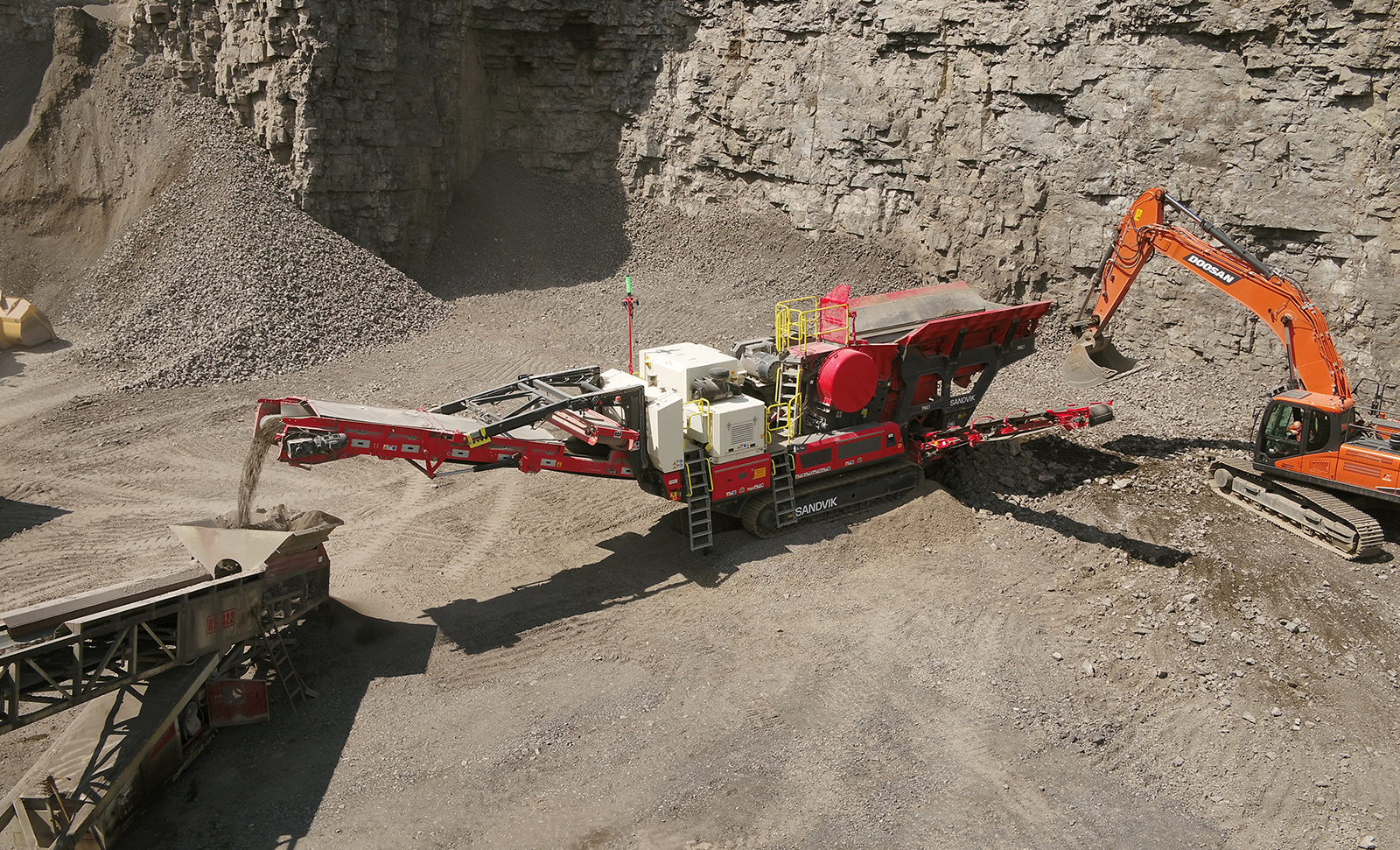 Breaking boundaries
The UJ443E offers a user-friendly mobile solution, manufactured using the highest quality components onboard, with controls and maintenance points located conveniently at ground level.
To minimize downtime and maximize the uptime, UJ443E is quick to set up and close-down, and is equipped with a new and unique crusher unblock system to clear any blockages from the jaw crusher.
UJ443E comes with improved access to maintenance, including new access platform under and a newly designed automatically locking folding hopper sides, that can be operated from ground level.
The new automation system with Optik™ intuitive user experience, includes simplified operation controls and total integration with our My Fleet telematics solution. Diagnostic support, pre-installed guides for troubleshooting and real time information allows customers to know exactly how their equipment is being utilized.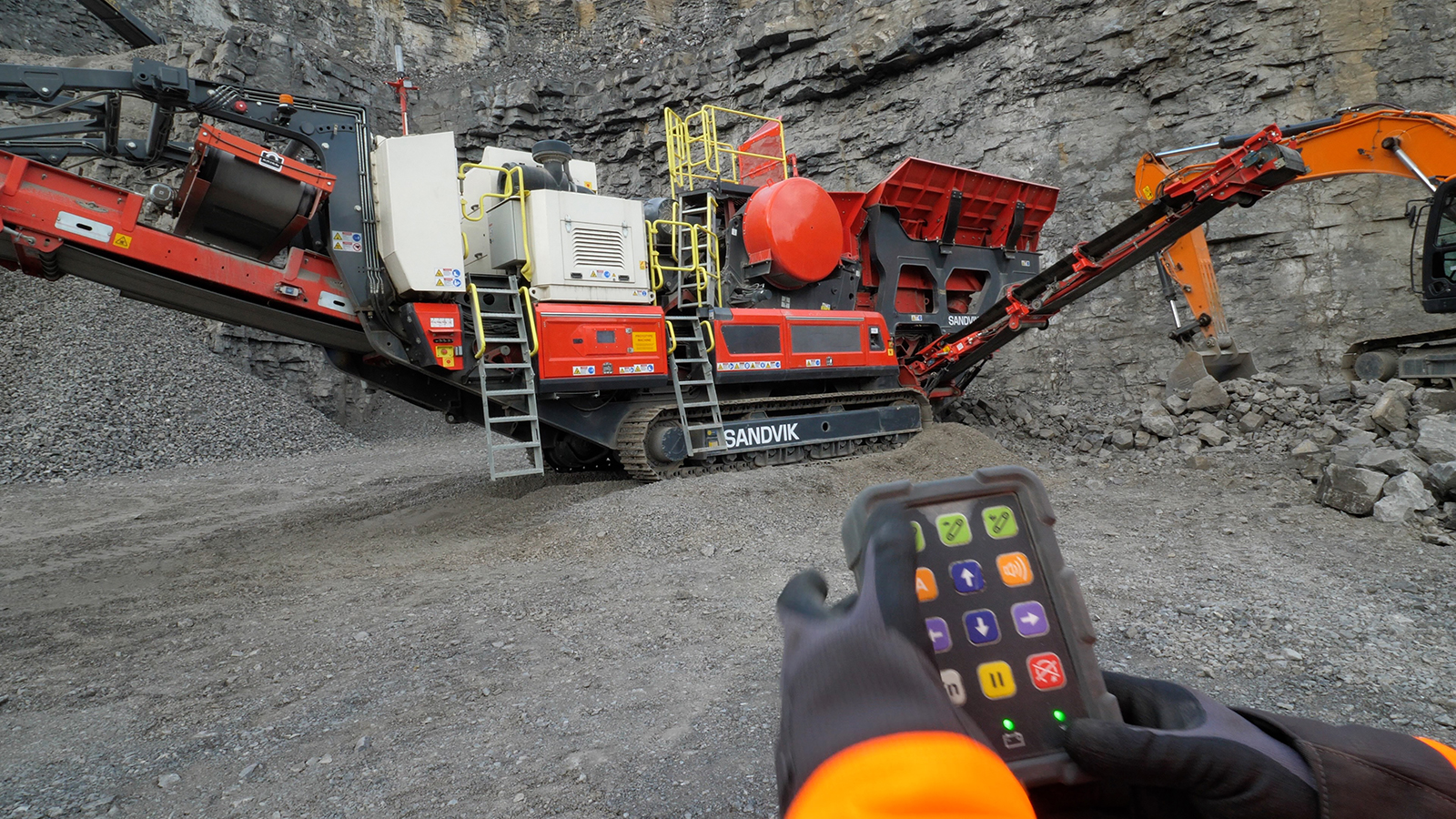 With a host of new innovative features on the UJ443E, we break boundaries, so you can crush rock.
Summary of key features:
- The fully electric track drives provide better control and agility when tracking and loading and significantly reduces the need for hydraulics on the plant and long-term service cost
- Redesigned feed station with patent pending hydraulic lift function for improved maintenance access and fixed jaw removal
- Larger feed hopper is provided with a patent pending folding and locking mechanism. The standard volume is 8m3 / 11cubic yards. This can be increased with optional hopper extensions
- Two feeder options are available. A vibrating grizzly for clean rock or a vibrating grizzly with under-screen for rock containing fines. Both are rubber lined and have significantly larger grizzly cassettes for greater fines removal before crushing
- The class leading 1400mm (55") wide main conveyor is now angle adjustable and extended with remote hydraulic lock out and a height adjustable over band magnet
- There is also a larger bypass chute and optional natural fines conveyor, with 650mm / 26" wide belt and a 3.5m / 12ft stockpile. It is electrically driven and folds for transport
- The Sandvik CJ412 jaw crusher now has enhanced connectivity features, providing the operator with live operating parameters, heavy duty electric drive and onboard hydraulics for CSS setting regulation
- The jaw crusher assembly can be removed for transport which is useful in regions with restrictive transport weight regulations
- The crusher unblock software reduces the need for an onboard rock hammer, reducing downtime and increasing safety onsite
- The alternator is sized according so that a downstream screening plant could be operated from the plant's onboard genset, simplifying servicing and maintenance an improving overall fuel consumption
*Subject to application
** Sandvik Limited has received support for research and development from Invest Northern Ireland under the European Union's Investment for Growth and Jobs Programme. This project was implemented through research and development activities, and was aimed at improving competitiveness and developing customer efficiencies, whilst also providing a more sustainable solution.
This project which is part-financed by the European Regional Development Fund under the Investment for Growth and Jobs Programme 2014-2020 aims to increase business efficiency.
For further information, contact:
Sandvik Rock Processing Solutions, Mobile Crushers and Screens
Melissa Baker, Marketing Communications
Tel: +44 (0)7725 259151 Email: melissa.baker@sandvik.com