Sandvik further strengthens North American Wheeled Offering with two new units
Sandvik Mobile Crushers and Screens continues to lead the charge in developing flexible and sustainable products that offer durability and class-leading productivity. Launching in the North American market, the Sandvik US373 wheeled cone crusher and US473 wheeled screening unit are engineered to provide a complete rock processing solution for quarry and mining industries.
Following the success of the UH373 cone crusher, the new Sandvik US373 now features the highly reliable and powerful Sandvik CS430 cone crusher with a 180 HP drive fully assembled on a triple axle trailer frame.
The UF473 is a screening unit with a Triple Shaft Horizontal screen, conveyors and control panel fully assembled on a heavy-duty tandem axle trailer frame.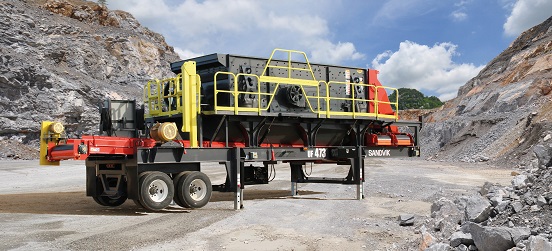 Both models have been designed with a range of new features while offering high-end productivity processing at a low cost-per-ton. 
More Reliability
Built to Sandvik's global quality standards, these machines can operate in the most hostile environment. Assembled on a heavy-duty chassis, strength analysis on structural parts and use of quality components ensures a durable product.
More Sustainability
All onboard components on both units are electrically driven, giving reliability, ensuring longer lifetime and supports optimized service and maintenance whilst reducing CO2 emissions. The US373 also features Constant Liner Performance (CLP) for extended life and performance of chamber liners.
More Productivity
The US373 cone crusher features the largest feed opening in its class for enhanced intake ability and reduced bridging while the cone crusher unibody mainframe ensures optimal strength and less maintenance. Sandvik's ASRi™ technology automatically adapts crusher to feed conditions and enables real-time performance management. With a choice of several chambers, throws and settings for a wide range of applications, the US373 enables you to fine tune your specification and improve capacity.
Sandvik's UF473 screening unit offers a three 8' x 20' Screen with a high G force and elliptical throw resulting in increased capacity. Fitted with a triple shaft, the screen provides a large screening area to efficiently separate the material. Combined with well-designed conveyors and chute works along with blending gates at 25% increments on all decks, the UF473 is a highly productive unit.
More Safety Features
As safety is our no.1 priority, we have included several features as standard to improve onsite protection. Safety guards, emergency stop buttons and spacious maintenance platforms provide excellent access for service and maintenance. 
Summary of key US373 Cone Crusher features:
Ideal solution for your secondary crushing needs
Largest feed opening in its class for increased intake ability and reduced bridging
Integrated ASRi™ automatically adapts crusher to feed conditions and enables real-time performance management
Constant Liner Performance (CLP) crushing chambers permits constant feed acceptance capability, increased output, high quality products and increased liner life
Easy setting adjustment for simple and efficient operation
Soft starting crusher with UL certified control panel
Low cost per ton due and low emissions due to electrical operation, minimizing environmental impact
Quick to set-up and easy to maintain, resulting in higher uptime and increased productivity
Summary of key UF473 Screening Unit features:
Ideal solution for your screening needs
A high quality, rugged screen with heavy duty bracing and frame members giving you a reliable and productive unit
Three deck 8' x 20' screen with a high G force and elliptical throw result in increased capacity
Hydraulic folding walkways for quick set up
Safety line for fall protection over the screen box during maintenance
UL certified removable electrical switchgear
Low cost per ton due to electric operation
Quick to set-up and easy to maintain, resulting in higher uptime and increased productivity
For more information, contact:
Barry Murphy
Sales Manager
Sandvik Mobile Crushing and Screening
Tel: +1 (610) 662-5405
E-mail: barry.murphy@sandvik.com