Sandvik appoints subsidiaries of Alta Equipment Group as Mobiles' distributor in Eastern USA
Sandvik is pleased to appoint two subsidiaries of Alta Equipment Group, Alta Construction Equipment Illinois and Midwest Mine Services as distributors for mobile crushing and screening equipment in Illinois, Indiana, Lower Michigan and Northern Ohio. They will be responsible for equipment sales combined with full aftermarket support through the supply of spare parts and local customer service.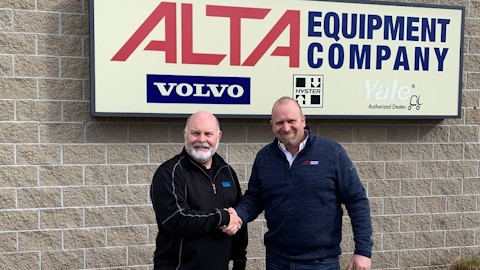 Alta owns and operates one of the largest integrated equipment dealership platforms in the U.S. Through its branch network, the company sells, rents, and provides parts and service support for several categories of specialized equipment, including lift trucks and aerial work platforms, cranes, earthmoving equipment and other material handling and construction equipment. Alta has operated as an equipment dealership for 38 years and has developed a branch network that includes over 70 total locations across Michigan, Illinois, Indiana, New England, New York, Virginia, Florida, Ohio, Nevada, Ontario, and Quebec. Alta offers its customers a one-stop-shop for their equipment needs through its broad, industry-leading product portfolio.
Alta Construction Equipment Illinois has its headquarters in Orland Park, Illinois and will be responsible for the state of Illinois. Midwest Mine Services is headquartered in Northwood, Ohio, and will cover Indiana, Lower Michigan and Northern Ohio.
The distributor agreement includes sales and support of Sandvik Q-Range tracked jaw, cone and impact crushers, screens and scalpers; as well as the heavy and wheeled U-Range products.
With this appointment Sandvik reinforces its commitment to providing local customer support, while at the same time allowing customers to benefit from dealing with a global company.
Announcing the new partnership, Scott McMaster, Dealer Sales Manager Sandvik mobile crushing and screening says, "We are delighted to build this partnership with Alta Construction Equipment Illinois and Midwest Mine Services. We are confident that together we can work to strengthen our position and develop the Mobiles' business further in these states."
Ian Remijn, Alta's Road & Aggregate Segment Director, says "We are excited to partner with Sandvik in these territories. Sandvik has a great reputation in the industry and is well received by customers. We look forward to growing with them!"
Alta and Midwest Mine Services have already taken delivery of their first Sandvik mobile units with additional units to follow.
All at Sandvik Mobile Crushers and Screens offer their congratulations and welcome them as part of the global Sandvik family.
For further information please contact:
Sandvik Rock Processing Solutions, Mobile Crushers and Screens
Melissa Baker, Marketing Communications
Tel: +44 (0)7725 259151 Email: melissa.baker@sandvik.com
Alta Equipment Group
Chris Machalak, Director of Marketing
Tel. +1 248-595-9810 Email: chris.machalak@altg.com
www.altaequipment.com