SVF Maquinaria appointed as Sandvik Mobiles' distributor in Mexico
Sandvik is proud to announce the appointment of SVF as its new authorized distributor of mobile crushing and screening equipment in Mexico. They will be responsible for equipment sales as well as provision of full aftermarket support through the supply of spare parts and local customer service.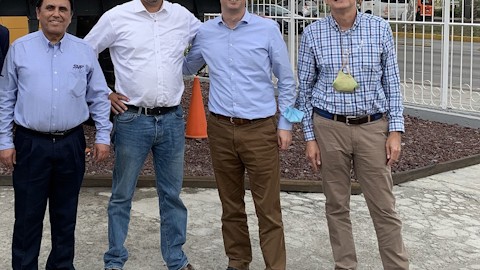 SVF Maquinaria, as part of Grupo SVF, is a solid multinational organization with 50 years of experience. They represent a number of leading manufacturers in supplying and supporting agricultural, marine, mining and industrial, trains as well as power generation products and services. SVF Maquinaria has its head office in Mexico City, with four other strategically located regional branches in Monterrey, Villahermosa, Merida and Coatzacoalcos to support their customers across the country. All branches are linked to the industry and offer a full range of support services for products, including customer service, experienced trained engineers and excellent infrastructure (repair shops, special tools, vehicles, machines).
Their mission is to generate value for its clients, strategic allies, employees and shareholders by offering comprehensive, high-quality solutions with excellent relations. Similarly, the mission of their Service Department is to provide excellent support to its clients, through a reduction in the need for emergency maintenance services, minimizing equipment shutdown and increasing the reliability and lifetime of customer's equipment. They achieve this through the use of highly qualified personnel, properly trained and equipped for the application of effective planning, problem solution and report preparation techniques.
Customer focus is one of Sandvik's core values and Sandvik Mobile Crushing and Screening is fully committed to selecting the right partners to sell its comprehensive range of products globally. Through the partnership with reputable and experienced dealerships such as SVF can Sandvik look to strengthen its global sales network and develop the Mobiles' business further.
The agreement includes full market coverage in Mexico for the sales and support of Sandvik Q-Range tracked jaw, cone and impact crushers, screens and scalpers; as well as the heavy and wheeled U-Range products.
Julio Flores, Distributor Manager Sandvik mobile crushing and screening says, "We are happy to appoint SVF as new Mobiles' distributor in Mexico. Their existing product portfolio will complement our offering and through their established customer base, this will open up new opportunities to enable us to strengthen our position in the market and offer enhanced levels of customer support."
Lucas von Fedak, Country Manager says, "We are delighted to sign the contract with Sandvik. For us at SVF it is a commitment that we accept with honour, and we are confident that our partnership will deliver customers with an outstanding product experience."
The contract was signed 13th December 13th, 2022. All at Sandvik Mobile Crushers and Screens congratulate SVF and welcome them as part of the global Sandvik family.