Portuguese quarry trusts in Rammer performance with new R45P hammer
A quarry in Portugal has recently invested in a new R45P Performance Line hammer. The Rammer is used to break granite prior to it being crushed and screened into construction aggregate and decorative stone products. The R45P was chosen due to its high productivity, reliability and durability, all based around features synonymous with the renowned Rammer name.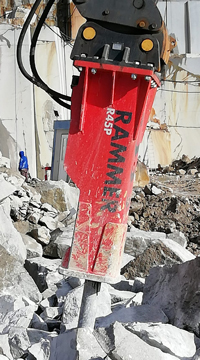 Portuguese quarrying and aggregates company Britafiel S.A. is based in Penafiel, a city located in the hills of the north of the country, some 35km from the Atlantic coast. Established in 2006, the company's quarrying business is focused on the production of aggregates, ornamental blocks and decorative stone products extracted from the granite mineral deposits found in the region. Based around the Pedreira de Vilar and located in the parish of Duas Igrejas, the granite deposits found in Penafiel have a reputation for being of excellent quality, ideal for the requirements of the construction and decorative stone products industries.
Using the local mineral deposits to their full potential, it is Britafiel's intention to be recognized in Portugal and internationally as a major supplier of high quality aggregates and ornamental decorative stone products. To this end the company now supplies (following extracting and processing) a wide range of aggregates, sand and gravel, railway ballast and other construction industry products. In addition, the quarry supplies yellow and blue granite blocks and decorative stone for landscaping, including its own granite based products using 'STOCO- Natural Creative Granite Technology'.
High productivity processing
In order to maximize the opportunities provided by the granite deposits found at the quarry, and to satisfy ever growing customer requirements, Britafiel has invested heavily in modern equipment solutions. "All production equipment must be able to deliver high levels of productivity, even in the most demanding situations, with proven reliability and durability, technologically modern and adapted to the highest quality standards and the requirements of current European legislation," explained Britafiel's general manager, Eng. Francisco Guimarães. "Britafiel has the most modern crushing equipment, enabling products with high quality indexes to be obtained, which is one of the areas with major importance in this type of industry and fundamental to the success of any organization."
Before crushing and screening however, much work has to be done extracting the granite. Hence Britafiel underwent an intensive process in acquiring a new hydraulic excavator mounted hammer. This led to the company choosing a Rammer Performance Line R45P hammer with RD3. "We have used others hammer brands, which were also competing for the supply of a new unit, but we chose the Rammer R45P due to Rammer's reputation in quarrying and its RD3 monitoring system explained Francisco Guimarães. "Because of this system, the customer can see online information about the hammer, such as location, working hours, maintenance intervals, and periods of use." Francisco further noted that working from his office he is able to view the performance of the R45P hammer operating on one of the quarry benches without having to leave his office.
Designed to boost performance
The Rammer R45P is part of the new Rammer Performance Line of hammers which has been developed to provide solutions for a wide range of breaking tasks. Designed with proven Rammer features, the Rammer Performance Line hammers offer more than just excellent power-to-weight ratios as they also bring the quality reassurance that Rammer hammers are renowned for. The R45P, and the other Performance Line hammers, deliver quality and peace of mind, placing an emphasis on operator comfort through a vibration dampened and sound suppressed heavy duty housing that minimizes energy transfer to the carrier. Other standard features including Rammer's own Ramlube II greasing system, RD3/MyFleet as an option, as well as a fast change tool system for easy servicing and an extended product life span.
The R45P is designed to undertake a wide range of breaking duties being suitable for carriers between 32-53 tons, with the 2,950 kg hammer incorporating the latest developments in long proven breaking technology. These features include an Idle Blow Protector (IBP) that ensures the hammer cannot be operated until pressure is placed on the tool. This eliminates tie rod stress, reduces oil overheating and protects against premature failures. A nitrogen piston accumulator ensures that there is the ideal impact power for any application and a membrane type accumulator dampens pressure peaks protecting carrier hydraulics.
Greasing and data
A hammer's tool is subject to extreme wear that requires proper lubrication and care to achieve a long, trouble free life. Rammer Tool grease used with the R45P has been developed to assist the hammer withstand high temperatures and pressure being specially formulated to be used with Rammer products. In addition, and with all Performance Line hammers, the R45P comes with a Ramlube II kit as standard mounted on the hammer housing to ensure optimum wear and impact protection. Featuring no external electric cables or hydraulic hoses, it is ideally suited to applications in which the hammer is required to work with more than one carrier.
As an optional extra, and one that Britafiel chose for its Rammer R45P hammer and has found to be of great benefit, is the RD3 remote monitoring system. This provides detailed information about the operating hours, service intervals and GPS location of the hammer through logging onto the My Fleet platform. As noted by Britafiel's Francisco Guimarães, RD3 effectively improves fleet management, making processes more efficient, thereby improving operational profitability.
Rammer in Portugal
A major contributing factor to acquiring the Rammer R45P Performance Line hammer is the relationship Britafiel S.A. has with Rammer's distributor in Portugal, Cimertex SA. Should assistance, operator training, spare parts or equipment service be required, the dealer has the facilities, experience and know-how to ensure that the Rammer hammer works at peak performance throughout its operational lifetime. As well as equipment supply, and with workshops located in Porto, Lisbon, Leiria, Aljustrel and Funchal, Cimertex is able to undertake aftermarket work ranging from simple servicing and repairs to the most complex of refurbishments.
Lahti, Finland, 15 March 2021
For more information contact:
Rafa López
Distribution Director
Sandvik Rock Processing Solutions, Attachment Tools
Tel. Mobile: +34 609 33 10 50
Tel. Office: +34 96 132 30 10
E-mail: rafa.lopez@sandvik.com