Electric offering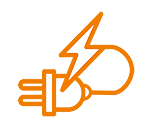 Sandvik is committed to using engineering and innovation to make the shift towards more sustainable business. Integrating sustainability into our business model and ways of working creates value for all stakeholders: customers, employees, shareholders as well as society.
Shaping a sustainable future
We take corporate responsibility very seriously and you can be confident that our business decisions and actions demonstrate our focus on the environment. Through the development of our offering, we have taken steps to adapt our products to ensure that the impact on the local environment is kept to a minimum.
In our commitment and drive towards a more sustainable future, whilst also helping our customers lower their operating costs, Sandvik offers a wide range of electric and hybrid solutions within our mobile crushing and screening offering.
Making progress
We are constantly striving to increase our positive impact, and reduce our carbon footprint through our operations and product portfolio. This covers both our equipment and aftermarket offering.
Examples of how we are driving towards a more sustainable future include:
Availability of EU Stage V / EPA Tier 4 Final emission compliant engines
Dust suppression systems as standard, reducing emissions and improving the environment on site
Extended service intervals from 2,000 to 4,000 hours on most Q-range models, resulting in a 50% hydraulic fluid saving
Low emissions due to electrical operation, reducing CO2 emissions
Aftermarket Offering
Optitooth™ jaw plates fitted as standard on Q-Range jaw crushers, resulting in reduced CO2 per ton crushed and a 15% fuel saving
WX Sandvik screen media available for all mobile screens, scalpers and hanging screens which gives significantly longer wear life with up to 10x fewer media changes
My Fleet telematics, remote access and remote problem solving reduces the need to travel to site