QE442e Scalper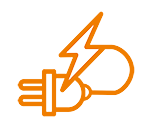 Sandvik QE442e is the largest in the heavy-duty range of tracked mobile scalpers. Fitted with hybrid drive option, this model provides the flexibility to operate in diesel or electric mode for lower operating costs and reduced carbon footprint.
Need to know more?
Sandvik QE442e incorporates many product refinements for improved plant durability, efficiency, quicker set-up and easier service access, whilst also maintaining the class leading features of its predecessor, the Sandvik QE441. These benefits include a redesigned screen box for improved durability, reduced cost of ownership and "My Fleet" remote monitoring system is fitted as standard.
Sandvik QE442e can accept high volumes of infeed material and is ideal for your large quarrying, mining or recycling applications. It can also work as a stand-alone unit feeding a primary crusher.
This solution offers the user-friendly features of the 2 series screens including an electrical control system which improves both operational effectiveness and machine safety.
With a machine this powerful, operator safety is vital. To ensure this, Sandvik QE442e includes 2-speed radio remote control tracking, feeder control and hydraulically folding maintenance platforms as standard.
Other models within this range include Sandvik QE342e and QE442e Free Flow.
Advantages
Hybrid "e" drive with electric plug-in to run in diesel or electric mode for lower operating costs
Heavy duty screen box with high speed and aggressive throw for optimum throughput
Reduced cost of ownership through extended hydraulic fluid change intervals from 2000hrs to 4000hrs
Latest generation fuel efficient engines provide maximum performance & cost efficiency
User friendly PLC control system with sequential start-stop for speed and ease of set-up
Spacious power pack with improved service access, hydraulics and lighting
Hybrid drive option with electric plug in available to run in diesel or electric mode
My Fleet remote monitoring system to help optimize your machine operation
Security+  extended warranty & service package for higher uptime and peace of mind.
Technical data
Screen box
5.5 x 1.75 m (18 x 6 ft)
Capacity (up to)
900 mtph (992 stph)
Engine
C4.4 110 kW (147 hp) *
Transport length
16.33 m (53 ft 7 in.)
Transport width
3.20 m (10 ft 6 in.)
Transport height
3.50 m (11 ft 6 in.)
Weight
39,997 kg (88,178 lb)
* Please refer to technical specification sheet for alternative engine options.
Please note all weights and dimensions are for standard units only.