QE342e Scalper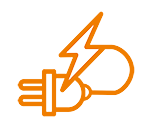 Sandvik QE342e is a heavy duty scalper with class leading open scalping area capable of delivering enormous rates of production. Fitted with hybrid drive option, this model provides the flexibility to operate in diesel or electric mode for lower operating costs and reduced carbon footprint.
Need to know more?
Its design and attributes means that the production of even the most-hard wearing of materials is facilitated through a wear resistant steel apron feeder, with massive stockpiling capability and over-wide conveyors that maximize delivery.
Its purpose designed crusher style chassis has been developed specifically to accommodate the latest more powerful and efficient engine power packs. Enhancing its versatility, the Sandvik QE342e incorporates a wear resistant rigid hopper which is compatible for 2-way or 3-way split configurations, as well as having the ability to interchange side conveyors thereby demonstrating the ultimate flexibility of the unit. The screen box jack up facility allows easier access to the bottom deck for maintenance and screen media changes.
Other models within this range include Sandvik QE442e and QE442e Free Flow.
Advantages
Hybrid "e" drive with electric plug-in to run in diesel or electric mode for lower operating costs
Heavy duty screen box with high speed and aggressive throw for optimum throughput
Latest generation fuel efficient engines provide maximum performance & cost efficiency
User friendly PLC control system with sequential start-stop for speed and ease of set-up
Spacious power pack with improved service access, hydraulics and lighting
Hybrid drive option with electric plug in available to run in diesel or electric mode
My Fleet remote monitoring system to help optimize your machine operation
Security+  extended warranty & service package for higher uptime and peace of mind.
Technical data
Screen box
4.7 x 1.45 m (16 x 5 ft)
Capacity (up to)
500 mtph (551 stph)
Engine
C4.4 98 kW (132 hp) *
Transport length
14.83 m (48 ft 8 in.)
Transport width
3 m (9 ft 10 in.)
Transport height
3.4 m (11 ft 2 in.)
Weight
30,067 (66,286)
* Please refer to technical specification sheet for alternative engine options.
Please note all weights and dimensions are for standard units only.