Out with the old and in with the new electric UH373 wheeled crushing unit for McCrary Stone Service
Word of mouth goes a long way and upon hearing good recommendations of the reliability and versatility of Sandvik cone crusher technology, McCrary Stone Service decided to invest in a new electrically-driven UH373 wheeled cone crushing unit to replace their worn-out machine for their granite operation.
McCrary Stone Service in Marshall, North Carolina, originates back to the early 1940s when Charles McCrary formed a rock crushing business and named it McCrary Contracting. Upon his retirement his sons bought the business and in 1968, incorporated it as McCrary Stone Services Inc. McCrary opened the Madison Quarry in 1971 and has operated there producing a variety of material for the aggregates industry from the smallest screenings to the largest riprap. Throughout the '60s to '90s, McCrary has worked in Virginia, Tennessee, North Carolina, South Carolina and Georgia but now just operate their Madison County quarry.
Looking for a reliable cone crusher to replace their existing plant, McCrary had received good recommendations on the Sandvik technology and contacted their local distributor Screen-Tec LLC. Requiring a high capacity unit and electrically driven to fit in with their existing stationary crushing and screening operation, the recently launched Wheeled range of equipment for the North American market, and the UH373 model in particular, seemed an ideal fit for their granite application.
Low cost operation
Sandvik UH373 is an open circuit secondary crushing unit fully assembled on a single trailer frame and mounted on a double-axle bogie. Electrically driven, it has been designed to offer simple and user-friendly operation aimed at high capacity production at a low cost-per-tonne. Featuring Sandvik cone crushing technology for reliability and versatility, the UH373 is suitable for use in a wide variety of applications and capable of producing up to 385 stph / 350 mtph.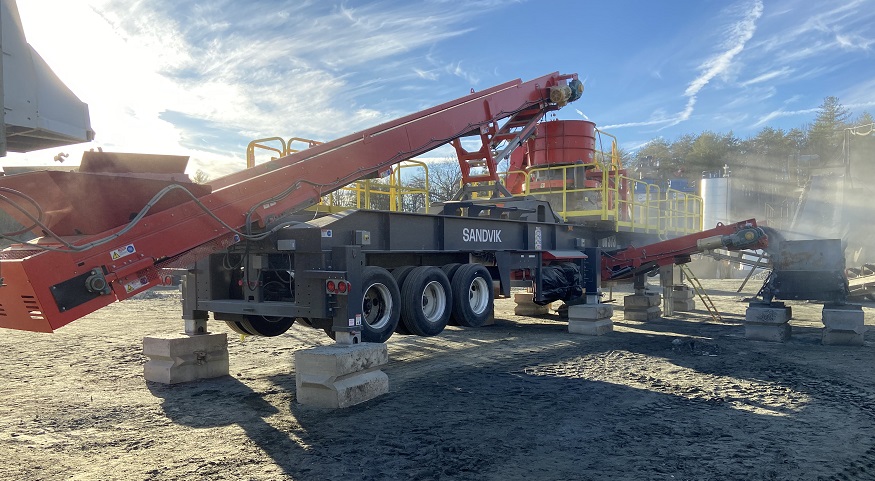 With many years' experience and growing up around crushing and screening equipment, Pat McCrary, the owner, says he has seen many changes in equipment over the years.
Machines are a lot safer to operate these days. You also get better mobility and control on site with today's machines.
Safety of the operator is paramount and design features incorporated into the build of the UH373 include safety guards, emergency stop buttons and spacious maintenance platforms with handrails and ladders for excellent access for service and maintenance. The electrical control panel which is transported on the machine for transport, can be dismantled and located at ground level during operation for ease of operation.
Other features for ease of operation include the integrated ASRi system, automatic setting regulation system which enables customers to monitor and optimize production, whilst the Constant Liner Performance (CLP) gives the added advantage of tracking liner wear which will serve to minimize interruptions and downtime.
In their application, the UH373 cone is being used as a secondary crushing stage being fed a hard granite material with a feed size ranging from 1¾" to 8" / 45 to 200 mm and is producing a 1.75" / 45 mm minus product that goes on for further processing.
The full package
Purposefully designed and manufactured for the North American market, this range of equipment offers global engineering expertise with local support. The complete range includes jaw, impact and cone crushers for primary, secondary and tertiary applications. Combining crushing as well as screening solutions, Sandvik offer customers a complete portable package to choose from.
Modular in design, the units are simple to operate and easily serviced so you can maximize uptime. Powered by electricity they offer a low operational cost per ton, reducing CO2 emissions and helping to create a more sustainable future.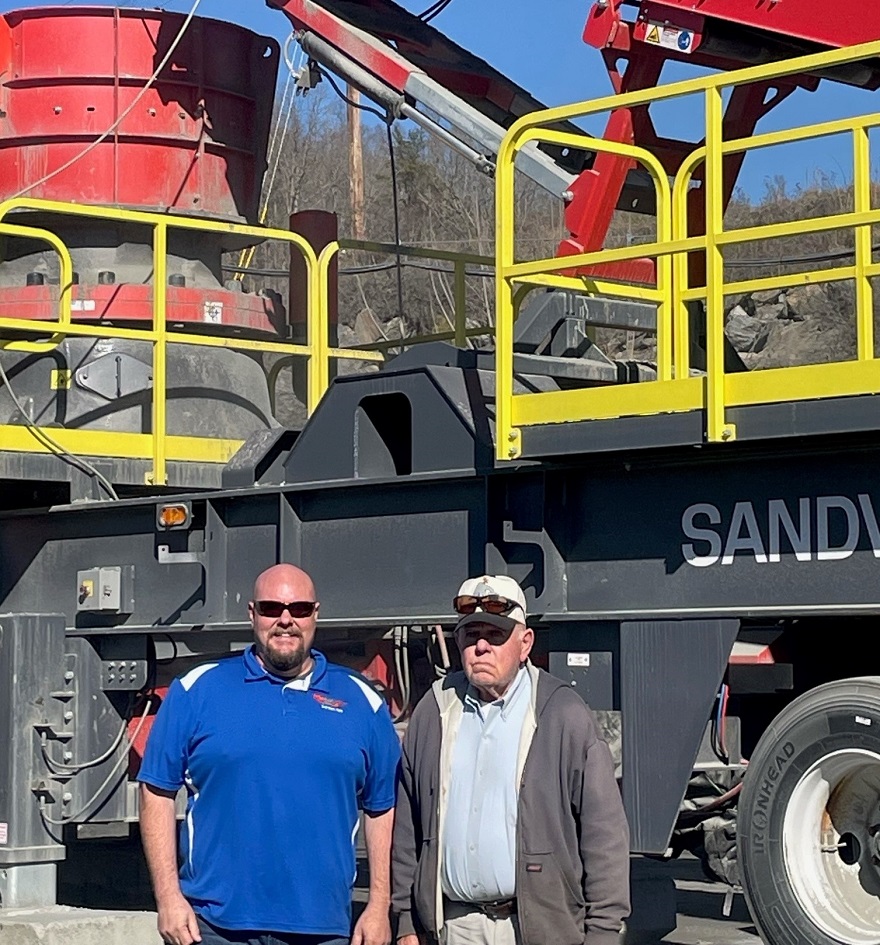 For further information please contact:
Melissa Baker, Marketing Communications
Sandvik Rock Processing Solutions, Mobile Crushers and Screens
Tel: +44 (0)7725 259151 Email: melissa.baker@sandvik.com
Barry Murphy, Sales Manager
Sandvik Rock Processing Solutions, Mobile Crushers and Screens
Tel: +1 610-662-5405 Email: barry.murphy@sandvik.com
Pictured below: Jeff Tatar, Sales Manager Screen-Tec LLC with Pat McCrary, Owner McCrary Stone Services
---------------------------------------------------------------------------
Sandvik Group
Sandvik is a global high-tech engineering group offering solutions that enhance productivity, profitability and sustainability for the manufacturing, mining and infrastructure industries. We are at the forefront of digitalization and focus on optimizing our customers' processes. Our world-leading offering includes equipment, tools, services and digital solutions for machining, mining, rock excavation and rock processing as well as advanced materials. In 2021 the Group had approximately 44,000 employees and revenues of about 99 billion SEK in about 150 countries.
Sandvik Rock Processing Solutions
Business area Sandvik Rock Processing Solutions is a leading supplier of equipment, tools, parts, service, digital solutions and sustainability-driving technologies for processing rock and minerals in the mining and construction industries. Applications include crushing, screening, breaking and demolition. In 2021, sales were approximately 7.6 billion SEK with about 2,100 employees.