Mobile Crushing and Screening host Americas' Distributor Conference
Sandvik Mobile Crushing and Screening recently held their annual distributor conference for the US, Canada and Latin American sales territories in Austin, Texas. There were 50 participants overall taking part over the three-day conference with sales representatives from 15 distributors.
The three-day event was the first face-to-face meeting to be held for the past couple of years and provided the perfect platform to introduce new members to the Mobiles' team, welcome many new distributors onboard and also present an update on its strategy and future product roadmap.
The conference began with a welcome and introduction to the new management team, who then provided a business update on the Mobiles' strategy. This was followed by presentations from the sales and product support teams who gave an overview of the latest product offering including future product roadmap, which is set for big things to come over the next 2-3 years.
On the second day a demonstration day was organized to showcase the latest developments in the mobile crushing and screening offering. This was hosted at our distributor Crushing Tigers' premises in Austin. Throughout the day demonstrations with live commentary were running of some of our bestselling Q-Range models, the QI353 impactor, QJ341 jaw and QH332 cone crusher to name a few. Visitors were also given the very first sneak peak of the next new product to be launched within our Q-Range of mobile screens.
The tracked line-up was operating alongside our all-new electric range of Wheeled equipment specifically designed for the North American market, which included the UH373 cone, UF373 screen, UI310+ impactor and UK373 on display. This range is electrically driven and offers a sustainable rock processing solution. The portfolio includes jaws, impactors, and cone crushers for primary, secondary, and tertiary applications. Combining crushing as well as screening solutions, they offer customers a portable package to choose from with a lower operating cost and reduced carbon footprint.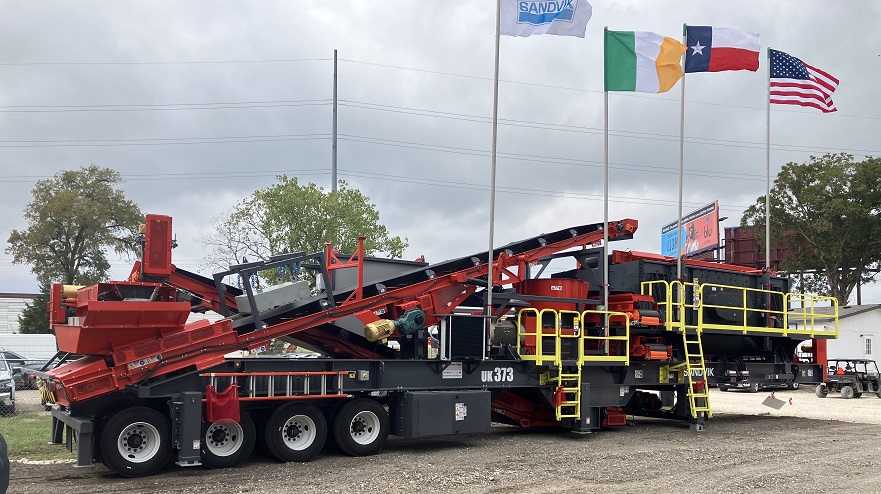 The third day was a customer open day hosted by Crushing Tigers. Customers were also given the opportunity to see the impressive display of Sandvik equipment in operation.
Jan Schroeder, Americas Sales Territory Manager for Mobiles' division said he was delighted with the level of engagement and energy within the group. "The demonstration day was well received and provided the ideal platform to raise awareness of our new Wheeled range of products for North America. I'd like to thank all involved for their contribution in the preparation, organization and participation of the conference, and special thanks to our distributor Crushing Tigers for hosting the event."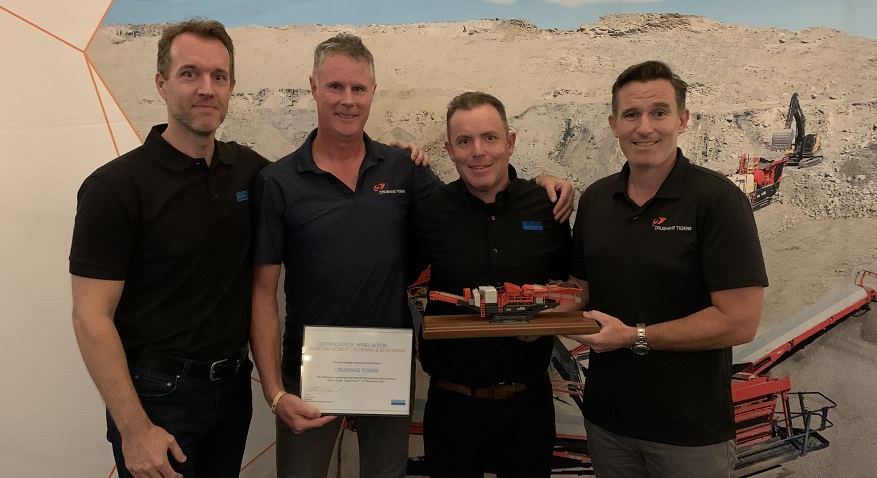 Pictured: Peter Unelind, President Mobile Crushing and Screening; Pat Doab Co-Founder/CEO Crushing Tigers; Tim Winslow, Mobiles' Sales Manager North America and Brian Costello Co-Founder/COO Crushing Tigers.
---------------------------------------------------------------------------
Sandvik Group
Sandvik is a global high-tech engineering group offering solutions that enhance productivity, profitability and sustainability for the manufacturing, mining and infrastructure industries. We are at the forefront of digitalization and focus on optimizing our customers' processes. Our world-leading offering includes equipment, tools, services and digital solutions for machining, mining, rock excavation and rock processing as well as advanced materials. In 2021 the Group had approximately 44,000 employees and revenues of about 99 billion SEK in about 150 countries.
Sandvik Rock Processing Solutions
Business area Sandvik Rock Processing Solutions is a leading supplier of equipment, tools, parts, service, digital solutions and sustainability-driving technologies for processing rock and minerals in the mining and construction industries. Applications include crushing, screening, breaking and demolition. In 2021, sales were approximately 7.6 billion SEK with about 2,100 employees.