Wheeled and tracked duo prove just the job for Makapa Corporation in the Philippines
Makapa Corporation in the Philippines are operating a UJ300 wheeled jaw crushing unit together with a tracked QA335 Doublescreen. Processing river gravel to produce material for their own construction company, they have been delighted with the performance and production capacity of this mobile duo from Sandvik, combined with the support received from their local distributor, Inframachineries Corporation.
Makapa Corporation (Makapa) is one of the leading construction companies in the Bicol Region of the Philippines. They are a duly registered contractor with the Department of Public Works and Highways (DPWH) and specialize in creating horizontal infrastructures aimed at improving the environment for the local population.
Some of their work has involved construction of flood control structures and drainage systems to protect lives and properties against major flooding in the area. One of their latest projects has been processing river bed gravel to produce sand and gravel for consumption at their construction sites.
It is for this project that the mobile equipment was required; a jaw crusher to reduce the size of the feed material down to a manageable size and a screener to separate into the desired sizes. Not requiring the need to frequently move the equipment around on site after delivery, the wheeled range of Sandvik crushing equipment was proposed and UJ300 jaw crusher chosen due to its size and required capacity.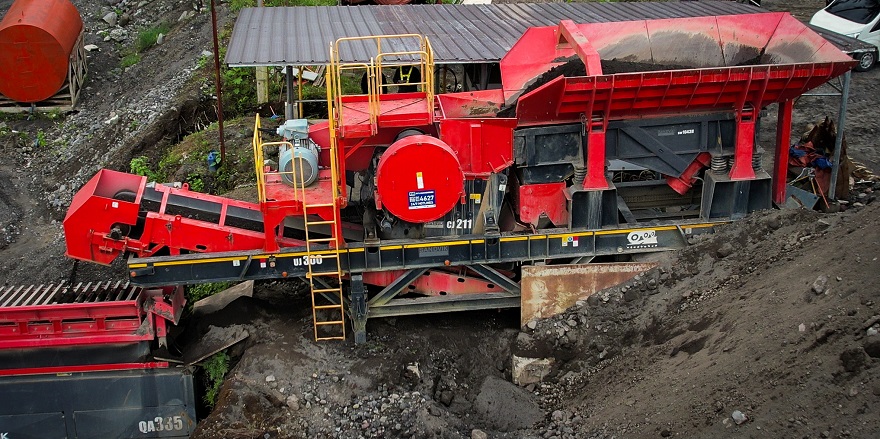 Low cost operation with Wheeled UJ300
Sandvik UJ300 is a primary crushing unit fully assembled on a single trailer frame and mounted on a double-axle bogie. Electrically driven, it has been designed to offer simple and user-friendly operation aimed at high capacity production at a low cost-per-tonne. Suitable for use in a wide variety of applications, the simple, yet effective design includes many benefits for quick set-up and ease of maintenance, resulting in more uptime and higher productivity.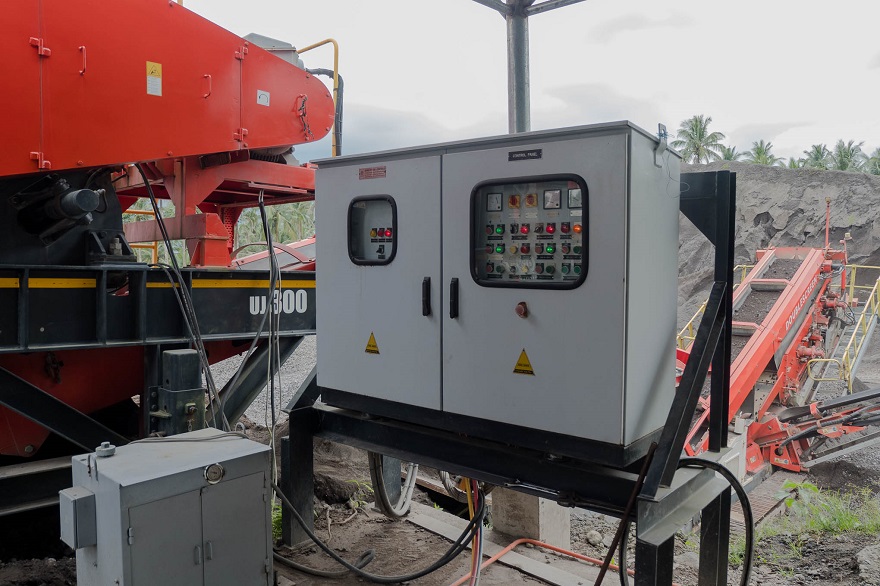 For Makapa's Corporation, the UJ300 is ideally suited to their river gravel application. The grizzly feeder system, which has adjustable openings and a by-pass chute for greater flexibility, has a wire cloth screening element beneath which enables efficient removal of natural fines. The material is then fed into the Sandvik jaw crusher, single-toggle type, which possesses a deep, symmetrical crushing chamber for smooth material flow and high reduction efficiency, as well as hydraulic push button controls for simple operation. A soft starting crusher for trouble free operation and frequency inverter for feeder speed control are also fitted to optimize the feed and make the crushing process easier.
Double the processes in one plant
To size the products, Makapa selected the Sandvik QA335 Doublescreen. The QA335 is a highly productive unit that comes equipped with the world-class, heavy-duty Doublescreen system. This innovative technology features two high velocity, angle adjustable screens, where both the primary and secondary screening angles can be adjusted to optimize screening performance and accuracy. With two independent double deck screens, this machine is capable of performing two screening processes in just one plant.
With the type of products Makapa are producing, the Doublescreen system enables them to accurately size the sand and gravel to the required specifications. They are processing G1 ( 20-40 mm) and G2 gravel (40-80 mm) and sand, and are currently producing 30m³, 50m³ and 70m³ respectively, which altogether results in an average capacity of 150m³ per hour. As they are a construction company, they are processing the material for their own consumption and for delivery to their project sites.
Chief Engineer for their equipment and aggregates division, Winston Cipriano, comments "We are pleased with the performance and capacity of the Sandvik mobile plant. We have produced almost 100,000m³ in just 3-4 months with good fuel consumption". He continues,
We chose Sandvik due to the high quality design and modern technology used on the equipment. We also received good recommendations from our peers in the industry.
Winning combination
This together with the local support from their distributor, Inframachineries Corporation, is a winning combination. Always on hand to support their customers and offer guidance in best operating practices, Winston says "Inframachineries are very accommodating. They often contact us from time to time and we know they are always available should we need them. We would not hesitate in buying Sandvik again in the future."
For more information contact:
Melissa Baker
Marketing Communications Manager
Sandvik Mobile Crushing and Screening
Tel: +44 (0)7725 259151
E-mail: Melissa.baker@sandvik.com
---------------------------------------------------------------------------
Sandvik Group
Sandvik is a global high-tech engineering group offering solutions that enhance productivity, profitability and sustainability for the manufacturing, mining and infrastructure industries. We are at the forefront of digitalization and focus on optimizing our customers' processes. Our world-leading offering includes equipment, tools, services and digital solutions for machining, mining, rock excavation and rock processing as well as advanced materials. In 2021 the Group had approximately 44,000 employees and revenues of about 99 billion SEK in about 150 countries.
Sandvik Rock Processing Solutions
Business area Sandvik Rock Processing Solutions is a leading supplier of equipment, tools, parts, service, digital solutions and sustainability-driving technologies for processing rock and minerals in the mining and construction industries. Applications include crushing, screening, breaking and demolition. In 2021, sales were approximately 7.6 billion SEK with about 2,100 employees.