Tesim appointed as Sandvik Mobiles' distributor for West Africa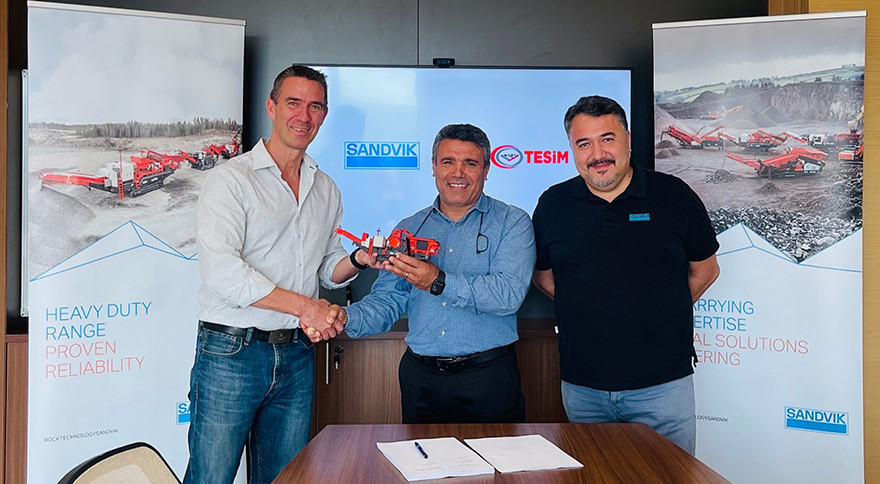 Sandvik is proud to announce the appointment of Tesim as its authorized distributor of mobile crushing and screening equipment in West Africa. They will be responsible for equipment sales as well as provision of full aftermarket support through the supply of spare parts and local customer service.
Customer focus is one of Sandvik's core values and as a global equipment manufacturer, Sandvik is continually looking to develop and strengthen its distributor network to sell and support its comprehensive range of mobile crushing and screening products throughout the world.
Tesim Teknoloji A.Ş. was established in 2013 and operates from its headquarters in Ankara, Turkey. They have developed into one of the major suppliers of crushing and screening equipment to the aggregates, mining and cement industries globally and also as a solution for engineering, procurement and equipment supply for the construction industry in Turkey. With experienced staff, they pride themselves on customer satisfaction and have completed more than 80 international projects since they were incorporated in 2013.
The agreement to sell and support Sandvik mobile equipment will cover West Africa*. Tesim will have a regional headquartes in Abidjan, Ivory Coast with sales and service teams.
Muzaffer Bayazitoglu, Sales Channel Manager, Sandvik mobile crushers and screens says, "This development offers a fantastic opportunity to further grow the Mobiles' business in West Africa. Tesim have excellent knowledge and expertise in the crushing and screening industry, and we are confident they are the right partners to help us develop the market further in these countries. We are delighted to welcome them onboard."
Ali Sahindokuyucu, CEO and Owner of Tesim also says, "Sandvik and Tesim have been business partners in a strong cooperation for a number of years. Now with the distributorship agreement for Mobile equipment in Western Africa, this will make the partnership stronger and enable us to better serve the needs of our customers."
The agreement was signed on Tuesday 24th May and all at Sandvik Mobile Crushers and Screens congratulate Tesim and welcome them as part of the global Sandvik family.
Pictured from left to right: Jesper Persson, VP Life Cycle Services Sandvik Mobiles, Ali Sahindokuyucu, CEO and Owner of Tesim, Muzaffer Bayazitoglu, Sales Channel Manager Sandvik Mobiles.
*The agreement covers the following countries: Burkina Faso, Gambia, Guinea Bissau, Liberia, Mali, Mauritania, Nigeria, Senegal, Sierra Leone, Ivory Coast, Benin, Cameroon, Chad, Equatorial Guinea, Guinea, Niger and Togo.
---------------------------------------------------------------------------
Sandvik Group
Sandvik is a global high-tech engineering group offering solutions that enhance productivity, profitability and sustainability for the manufacturing, mining and infrastructure industries. We are at the forefront of digitalization and focus on optimizing our customers' processes. Our world-leading offering includes equipment, tools, services and digital solutions for machining, mining, rock excavation and rock processing as well as advanced materials. In 2021 the Group had approximately 44,000 employees and revenues of about 99 billion SEK in about 150 countries.
Sandvik Rock Processing Solutions
Business area Sandvik Rock Processing Solutions is a leading supplier of equipment, tools, parts, service, digital solutions and sustainability-driving technologies for processing rock and minerals in the mining and construction industries. Applications include crushing, screening, breaking and demolition. In 2021, sales were approximately 7.6 billion SEK with about 2,100 employees.