Security+ Extended Warranty available for full Mobile Product Offering
Security+ is our extended warranty and service agreement program for Sandvik mobile crushers and screens. Purposefully developed to provide extra coverage beyond the standard one-year warranty, it helps customers to protect their investment, focus on their everyday work and provide peace of mind. Following the successful launch of Security+ for our Q Range products, the offering has now been expanded to include our full range of Sandvik tracked and wheeled equipment.*
We believe that the sale of our equipment is just the beginning of a business relationship with our customers. We know that maximizing uptime is of the utmost importance and therefore, regular maintenance and correct servicing is essential. Through entering into our Security+ extended warranty program, customers can be assured of receiving the best possible service to keep their equipment operating efficiently and at an optimum level.
Our comprehensive service packages help to control costs and prevent the high expenditure of unexpected component failures. Trained service technicians will perform regular condition inspections and scheduled preventative maintenance ensuring uptime is maximized.
Through the use of genuine spare and wear parts combined with expert service, inspection and care, Security+ offers peace of mind and long-term confidence in the performance and longevity of Sandvik mobile equipment.
Key customer benefits are:
• Improved Reliability – Through regular inspections and recommended maintenance actions, Security+ has been proven to significantly increase the reliability and uptime of equipment
• Cost Control - Customers can predict and manage their maintenance costs and eliminate any unexpected expenditure
• Trained Expertise - All services are performed by qualified service technicians, who are trained experts on Sandvik mobile crushers and screens
• Higher Resale Value - Equipment will have a fully recorded service history, and therefore command a higher resale value
• Strengthen Partnerships - Security+ strengthens customer relationships and trust by supporting their operational requirements and helping them get the most out of our products
• Tailored to customer's needs - We have two different packages available:
- Silver – 1 year extended warranty
- Gold – 2 year extended warranty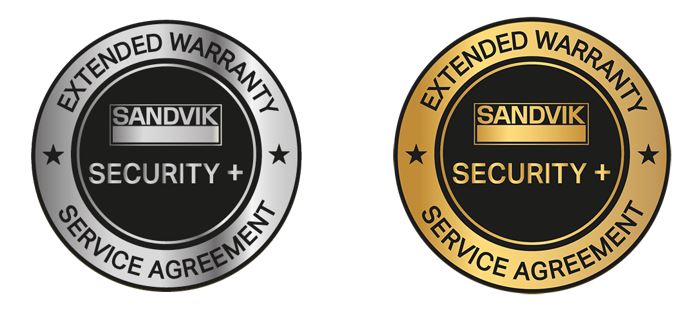 Our Security+ extended warranty program provides that extra level of protection and is built for peace of mind.
To find out more about our customer support and services available, please contact your local Sandvik representative.

*New Wheeled range of equipment exclusive to USA will follow at a later date.

Melissa Baker
Marketing Communications, Mobile Crushers and Screens
Tel: +44 (0)7725 259151
E-mail: Melissa.baker@sandvik.com
---------------------------------------------------------------------------
Sandvik Group
Sandvik is a global high-tech engineering group offering solutions that enhance productivity, profitability and sustainability for the manufacturing, mining and infrastructure industries. We are at the forefront of digitalization and focus on optimizing our customers' processes. Our world-leading offering includes equipment, tools, services and digital solutions for machining, mining, rock excavation and rock processing as well as advanced materials. In 2021 the Group had approximately 44,000 employees and revenues of about 99 billion SEK in about 150 countries.
Sandvik Rock Processing Solutions
Business area Sandvik Rock Processing Solutions is a leading supplier of equipment, tools, parts, service, digital solutions and sustainability-driving technologies for processing rock and minerals in the mining and construction industries. Applications include crushing, screening, breaking and demolition. In 2021, sales were approximately 7.6 billion SEK with about 2,100 employees.