Sandvik Mobile Crushers & Screens signs new distributor for Hungary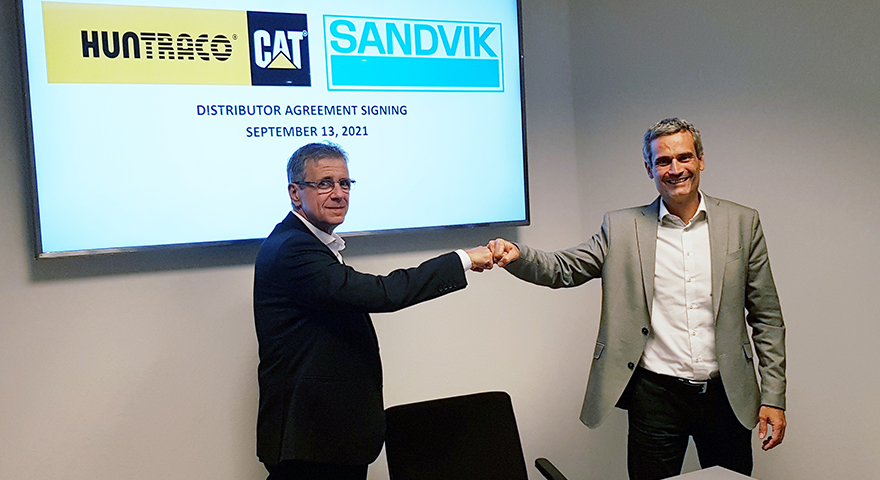 We are pleased to announce that we have officially signed a new agreement with Huntraco to be our authorized distributor for the sales and aftermarket support of Sandvik mobile crushing and screening equipment in Hungary.
Established in 1991, Huntraco is an established leading supplier of construction and industrial equipment for the earthmoving, aggregate, mining, agriculture and waste sectors in Hungary. Based with their headquarters in Budaörs, they have 5 service and sales locations throughout the country and employ 150 people. In addition to the supply of leading equipment brands, Huntraco also sell used machines and own a rental fleet to serve their customers' needs. Supplying to the same customer base, the Sandvik mobile offering will perfectly complement Huntraco's existing portfolio.
The comprehensive range of Sandvik mobile crushing and screening products encompasses jaw, impact and cone crushers; scalpers, three-way split screens, the world's first range of tracked Doublescreens and triple deck screens. Designed for high efficiency, optimum productivity and maximum uptime, all units are user-friendly and easy to transport.
The new appointment will enhance our levels of customer support locally. Continually looking to expand and strengthen our global distributor network, our aim is to help customers achieve the highest uptime in the industry. This is only possible through partnering with carefully selected distributors, who have the capabilities to provide enhanced levels of customer support through availability of parts and service on a local level.
Adriano Pezzo, Distributor Manager for Sandvik Mobile Crushers and Screens, says "We look forward to working with Huntraco and building a working relationship with them. They have experience in the mobile crushing and screening industry and a good reputation in the market. We are confident that their local customer knowledge and industry expertise will help us to grow the business of Sandvik mobile crushers and screens in Hungary."
"We are delighted to gain the opportunity to represent the Sandvik brand and the mobile range of crushers and screeners in Hungary. We believe that the high quality Sandvik products and Huntraco's acknowledged customer service capabilities will supply real value to Hungarian customers" said Róbert Litauszki, Managing Director of Huntraco.
The contract was signed on 13th September 2021. All at Sandvik Mobile Crushers and Screens offer our congratulations on becoming part of the global Sandvik family.
Sandvik Mobile Crushers and Screens
Melissa Baker, Marketing Communications
Tel: +44 (0)1283 212121
E-mail: Melissa.baker@sandvik.com
HUNTRACO Kereskedelmi és Szolgáltató Zrt.
Attila Kovács, Marketing Director
Tel: +36 23 504 365
E-mail: Attila.Kovacs@huntraco.hu
---------------------------------------------------------------------------
Sandvik Group
Sandvik is a high-tech and global engineering group offering products and services that enhance customer productivity, profitability and safety. We hold world-leading positions in selected areas – tools and tooling systems for metal cutting; equipment and tools, service and technical solutions for the mining industry and rock excavation within the construction industry; products in advanced stainless steels and special alloys as well as products for industrial heating. In 2020 the Group had approximately 37,000 employees and revenues of about 86 billion SEK in more than 160 countries within continuing operations.
Sandvik Rock Processing Solutions
Business area Sandvik Rock Processing Solutions is a leading supplier of equipment, tools, parts, service and solutions for processing rock and minerals in the mining and construction industries. Applications include crushing, screening, breaking and demolition. In 2020, sales were approximately 6,5 billion SEK with about 2000 employees.