New distributor for Sandvik Mobile Crushers and Screens in Brazil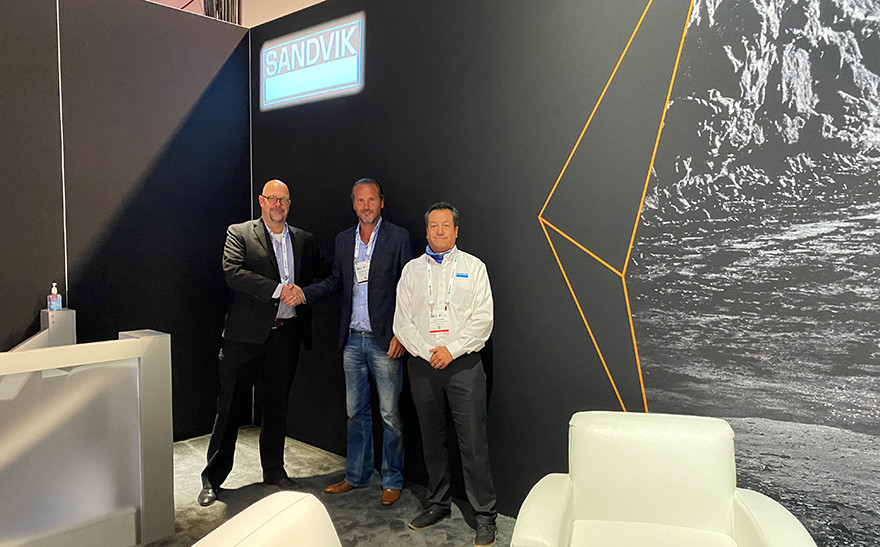 Mason Equipment has been officially appointed as the new distributor for Sandvik Mobile Crushers and Screens in Brazil. 'Mason Equipamentos' will be responsible for selling Sandvik's range of mobile equipment, as well as providing full aftermarket support through the supply of spare parts and local customer service.
Sandvik Mobiles is proud to welcome Mason Equipment onboard as its new distributor for Brazil. The appointment of an experienced and established distributor reinforces Sandvik's commitment in enhancing our local customer support, whilst at the same time allowing customers to benefit from dealing with a global brand.
Mason Equipment, a subsidiary of Mason Holdings, is a vertically integrated company that has over 40 years' experience delivering quality equipment, parts and services to all major sectors of the Brazilian economy. With their headquarters in Contagem, the company currently has locations in more than 20 different states and 37 cities throughout Brazil, distributing internationally recognized products lines from a variety of manufacturers, to provide a premium one-stop experience for their customers.
To complement their current offering, Mason Equipment will now be supplying the comprehensive range of mobile crushing and screening products to their customers. This extensive offering encompasses jaw, impact and cone crushers; scalpers, three-way split screens, the world's first range of tracked Doublescreens and triple deck screens. Designed for high efficiency, optimum productivity and maximum uptime, all units are user-friendly and easy to transport.
Committed to quality, expertise and customer support, Sandvik Mobiles is continually looking to expand and strengthen its global distributor network by partnering with expert dealerships to sell its range of mobile equipment for the mining, aggregates and construction industries globally. Sandvik Mobiles' goal is to help customers achieve the highest uptime in the industry. This is only possible through collaboration with carefully selected distributors, who have the capabilities to provide enhanced levels of customer support on a local level.
Julio Flores, Dealer Manager for Sandvik Mobile Crushers and Screens Latin America, says "We are delighted to sign the agreement with Mason Equipment and we look forward to working with them. Their local customer knowledge and established service support structure will set a good foundation for developing sales and growing the Mobiles' business further in Brazil."
"We are very proud to be an integral part of the Sandvik family and with the distribution of Sandvik Mobile Crushers and Screens, we are committed to delivering the best products and support available to increase our customers performance and productivity" says Edward Mason II - CEO Mason Holdings
The contract was signed on 20th September. All at Sandvik Mobile Crushers and Screens offer our congratulations on becoming part of the global Sandvik family.
Pictured above are: Jan Schroeder, Sandvik Sales Territory Manager Americas, Edward Munson Mason II, CEO Mason Holdings, Julio Flores, Sandvik Dealer Manager Latin America
For further information, please contact:
Sandvik Mobile Crushers and Screens
Melissa Baker, Marketing Communications
Tel: +44 (0)1283 212121
Email: Melissa.baker@sandvik.com
Mason Equipment
Daniel Ferraz, Business Manager
Tel: +55 31 99558-9788
E-mail: daniel.ferraz@masonholdings.com.br
Web: www.masonholdings.com.br
---------------------------------------------------------------------------
Sandvik Group
Sandvik is a high-tech and global engineering group offering products and services that enhance customer productivity, profitability and safety. We hold world-leading positions in selected areas – tools and tooling systems for metal cutting; equipment and tools, service and technical solutions for the mining industry and rock excavation within the construction industry; products in advanced stainless steels and special alloys as well as products for industrial heating. In 2020 the Group had approximately 37,000 employees and revenues of about 86 billion SEK in more than 160 countries within continuing operations.
Sandvik Rock Processing Solutions
Business area Sandvik Rock Processing Solutions is a leading supplier of equipment, tools, parts, service and solutions for processing rock and minerals in the mining and construction industries. Applications include crushing, screening, breaking and demolition. In 2020, sales were approximately 6,5 billion SEK with about 2000 employees.