More reasons to smile with a Sandvik QJ241 jaw crusher
Longstanding customer Ben Bennett Jr Ltd took delivery of their fifth Sandvik mobile crushing and screening unit for their quarrying operation in Derbyshire in July. These units are used to crush limestone to produce high quality grades of calcium carbonate for a variety of applications, including the pharmaceutical industry, and is commonly used in the manufacture of toothpaste.
Ben Bennett Jr Ltd is a family run business, which was founded in 1883. The company currently owns and operates a Steel Rolling Mill and a Limestone Quarry, both of which were acquired by Ben Bennett Jr in 1935. Their head office is located in Rotherham, South Yorkshire, and their quarry, Grange Mill Quarry, is situated in Derbyshire. They employ approx. 45 people at the quarry and work two shifts during the day and night to keep up with demand. Their services include the production of aggregates and bulk tanker products for supply and transport to a wide variety of industries, including pharmaceuticals, food, rubber, glass, plastics, sealants and many others, and export globally.
Grange Mill Quarry lies in the white peak of Derbyshire which is composed mostly of several types of limestone deposited during marine conditions in the early Carboniferous Period around 330 million years ago. Limestone, a sedimentary rock, formed and accumulated in clear, warm shallow seas with localised reef complex formations. The limestones are composed of the shells of organisms which are made up of the mineral Calcium Carbonate (CaCO3) which lived in these tropical environments.
High quality product
The Grange Mill deposit lies in the Bee Low Limestones which have typically thick beds and are of high chemical purity. Very few complete fossils are found in the deposit and there are no mineral veins to contaminate the limestone.* This makes the material of high quality and due to its softness and low silica content, is ideal for grinding to powder and granules for use in a wide variety of products including glass production, animal feeds, rubber, sealants, carpets & adhesives. Also widely used in the pharmaceutical industry, the high quality grades of calcium carbonate are used as an effective dietary supplement, antacid and an ingredient in baking powder and toothpaste. The quarry supplies approx. 50,000 tonnes a year to the pharmaceutical industry.
To process the limestone, the material is drilled, blasted and processed by the mobile crushing and screening plant supplied by Sandvik. Ben Bennett Jr first invested in a Sandvik unit back in 2013 and have purchased two screens, two crushers, and also a static screen over the years. Their current QJ241 mobile jaw crusher is set at a CSS of 75 mm and crushes the feed material down to 40 mm. This is then fed into a QA331, then a QA140 screen for processing down to 40–20mm, 20–10mm and -10mm.
Needing to upgrade and replace their six year old mobile jaw crusher, Ben Bennett Jr didn't hesitate in contacting Sandvik once again for the supply of a new unit, due to the reliability, familiarity of the equipment and aftermarket support provided. Andy Rawson, Director of the company comments "With proximity to the customer support centre, this was a major gain for the supply of parts and local service whenever required". Andy continues,
The aftermarket support has been very good. People come out whenever we have needed assistance. A lot of the work we can now do ourselves as our operators are familiar with the equipment. That's one of the reasons we continue to buy Sandvik as you don't have to start back at square one.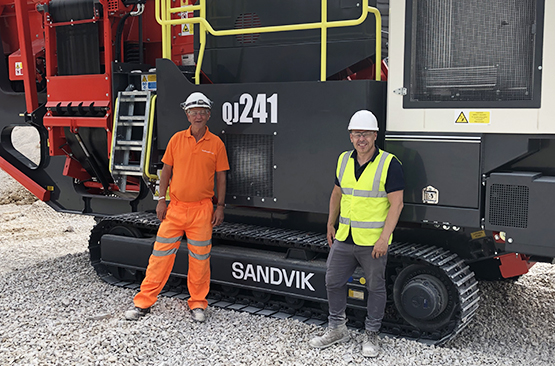 Durability and maximum uptime
The new QJ241 will come with the added benefit of Sandvik Optitooth™ jaw plates. These are included as standard on all Sandvik Q-Range jaw crushers for extended life, increased throughput and reduced fuel consumption. The new model also comes fitted with Sandvik My Fleet remote monitoring system as standard with 7 years complimentary data access. Access to a wide range of live machine data will help to minimize operator intervention, enable planning of service and maintenance schedules thereby maximizing uptime and achieve optimum output at all times. These new features are in addition to the standard features with which the QJ241 has become synonymous; such as hydraulic drive, enabling the crusher to start under load, hydraulically adjustable jaw setting to maximize your output and jaw level sensor to control the feed rate into the crusher with minimal intervention.
The QJ241 is also fitted with the latest emissions-compliant engine, dust suppression spray bars and onboard water pump as standard to minimize dust. In accordance with Sandvik's environmental focus and sustainability targets, these are important factors for Ben Bennett Jr due to their location on the boundary of the Peak District National Park. They are committed to maintaining and protecting the biodiversity of the area and employ consultants to monitor their environmental impact on the local environment.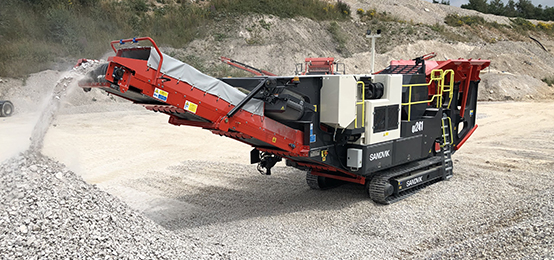 Sandvik mobile crushers and screens have proven to be the ideal solution for Ben Bennett Jr and the repeat business and investment from them over the past eight years is testament to this. Sandvik Mobiles looks forward to continuing this business partnership and being the supplier of choice for years to come.
For more information contact:
Melissa Baker
Marketing Manager
Sandvik Mobile Crushers and Screens
Tel: +44 (0)1283 212121
Email: Melissa.baker@sandvik.com
* Ben Bennett Jr company website: https://benbennettjrltd.co.uk/
---------------------------------------------------------------------------
Sandvik Group
Sandvik is a high-tech and global engineering group offering products and services that enhance customer productivity, profitability and safety. We hold world-leading positions in selected areas – tools and tooling systems for metal cutting; equipment and tools, service and technical solutions for the mining industry and rock excavation within the construction industry; products in advanced stainless steels and special alloys as well as products for industrial heating. In 2020 the Group had approximately 37,000 employees and revenues of about 86 billion SEK in more than 160 countries within continuing operations.
Sandvik Rock Processing Solutions
Business area Sandvik Rock Processing Solutions is a leading supplier of equipment, tools, parts, service and solutions for processing rock and minerals in the mining and construction industries. Applications include crushing, screening, breaking and demolition. In 2020, sales were approximately 6,5 billion SEK with about 2000 employees.