The importance of periodic condition inspections
Periodic inspections are central to any maintenance program, and are vital to a well-functioning, productive and profitable operation. Machine failures and unexpected breakdowns are costly, disruptive and – most importantly – can pose serious safety risks. Therefore, addressing potential failure scenarios in a proactive manner is crucial for minimizing downtime and improving workplace safety.
The best way to find out about the health of your Sandvik equipment is to have it inspected by a certified service engineer, who knows it inside out. Our periodic inspections include a comprehensive checklist covering more than 100 points that reveal exactly how your equipment is performing. A certified Sandvik service engineer gives you status reports on your equipment health – improving reliability and reducing costs by avoiding expensive failures.
Safety
Nothing is more important to Sandvik than the safety of the people who use our products. Fortunately, we operate in an era when our customers share our vision of eliminating workplace injuries and health problems. The demand from mining companies to protect their workforce, mirrors our commitment to intelligent aftermarket solutions that increase the safety, as well as the productivity, of your operation.
Periodic condition inspections are a central part of this commitment. By having experienced and knowledgeable Sandvik engineers examine your equipment, you will be made aware of any existing hazards as well as getting an early indication of any developing risks. It is an approach that lets our customers take control of the safety and well-being of their people.

Productivity and Reliability
High productivity depends upon reliability. You simply cannot get the most out of your operation if it is being interrupted by unscheduled and unexpected shutdowns.
We conduct an analysis of your operational and maintenance trends and identify reliability risks, letting you know what needs to be monitored over time, and how to avoid expensive problems. With a checklist of over 100 points, each inspection protocol dives deeper into your equipment to discover potential reliability issues. You will also be informed if there are any worn-down parts that need to be replaced in the near future, so that you can have the right spare parts available precisely when you need them.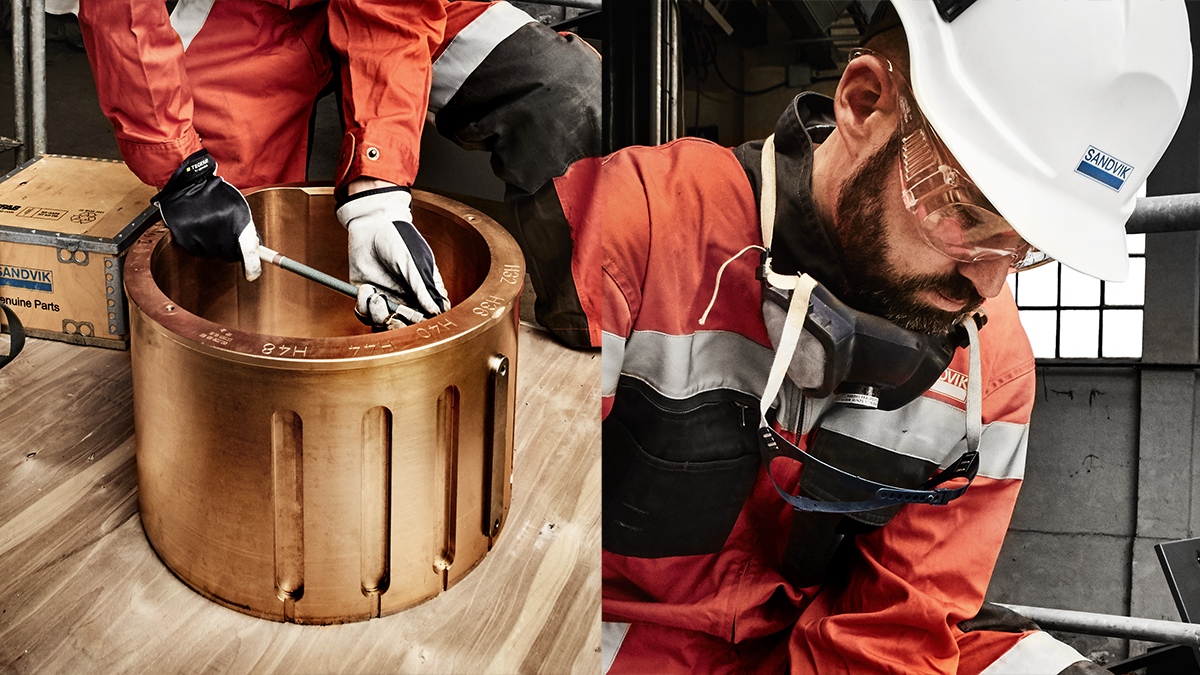 Condition inspections are time-efficient, and can be scheduled to coincide with planned liner changes to minimize downtime. Our research tells us that you can expect our condition inspection to unlock at least 1 production day by minimizing unexpected breakdowns and ensuring that you have the necessary replacement parts on site*.
* Test results are to be considered as results reached under certain and controlled test conditions. These test results should not be treated as specifications and Sandvik does not guarantee, warrant or represent the outcome of test results in any or all circumstances.
Stay informed
Every condition inspection concludes with a written report, giving you a complete status report on your equipment health, and a list of recommendations for maintenance upkeep, replacement parts, and upgrades. The report also contains a trend analysis of equipment condition, letting you anticipate your future needs, and make informed decisions about corrective actions and improvements.